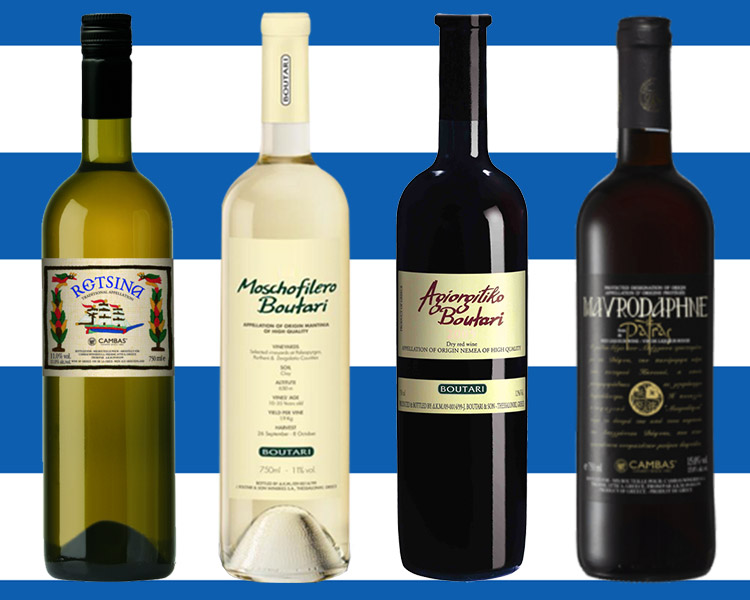 Greek Wines

The 1980s was not the best time for wine drinkers – for most of us there was not a huge choice, and imported wines especially were often the mass produced and lower-end of the spectrum.
Some wine regions have struggled to shake off the reputations made for them, but in these more enlightened times, we know there is more to German wines than Piesporter and Black Tower, so much more to Sherry than flagons of Pale Cream, and so so much more to Greek wine than the Retsina you drank from a tap in the wall on your holiday in Corfu!
Greece is one of the oldest wine-producing regions in the world, with evidence of winemaking dating back 6,500 years, and in Roman times wines from Greece were renowned for their quality.
Despite the surge in popularity of wine in recent years, modern Greek wines are only just coming to the attention of the world's wine drinkers, and those who are adventurous enough to give them a try will be rewarded with interesting wines made using varieties you've never heard of.
We'll be the first to admit we struggle to pronounce some of these names (especially after a glass or two) but don't let that put you off – we've added pronunciation guides for each wine…
Boutari Moschofilero  (mo-sko-feel-er-oh)
A strong varietal aroma of flowers and citrus fruit on the nose and palate, with white rose and orange blossom prevailing. A fresh wine, full and balanced, with a long finish. In an effort to literally save the Moschofilero variety from extinction and in recognition of the enormous potential of this strongly aromatic variety, Boutari worked hard to produce their now famous Moschofilero.
Boutari Agiorgitiko        (ah-jor-yee-tee-koh)
Deep red, attractive colour and a rich aromatic bouquet, with a balance of red fruit aromas, like plum and the sweet notes of ageing, vanilla and cocoa. Rich, well-structured, balanced, with a velvety aftertaste. Similar in style to Merlot, but with slightly more spice.
Cambas Mavrodaphnie Of Patras            (mav-roh-daf-nee)
A remarkably affordable example of this famous sweet red wine from the hilly northwestern region of Achaia. Aromas of raisins, dark chocolate and cinnamon, with a rich textured palate and a long finish. Serve slightly chilled as an aperitif, or at the end of the meal with a decadent dessert.
Retsina Cambas Karavaki  (ret-see-nah) - ideally in an Essex accent, for that authentic Brits-abroad Greek island holiday vibe…
Ok ok, so we've done a lot of taking-the-mickey out of Retsina – but it is a specialty of Greece, a white wine infused with the sap of the Allepo pine tree. Aromas of linseed oil and lime peel that lead into flavors of apples and roses, with a subtle piney, saline finish. And as with all things, there are better examples. This Karavaki Retsina by Cambas is one of the lighter examples, with bright fruit aromas underpinned with the resinous pine backbone. Try with richer seafood such as octopus or shellfish.
Eat The Food, Drink The Wine... As with many older wine regions, the best way to appreciate the wines of Greece is with the local cuisine. It makes sense really, as the style of the dishes and the style of the wine have evolved alongside each other over many centuries. Many Greek wines have an element of spice and rich aromatics, which perfectly balance the intensity of Greek foods. So grab some Kalamata olives, some quality feta and dig in!