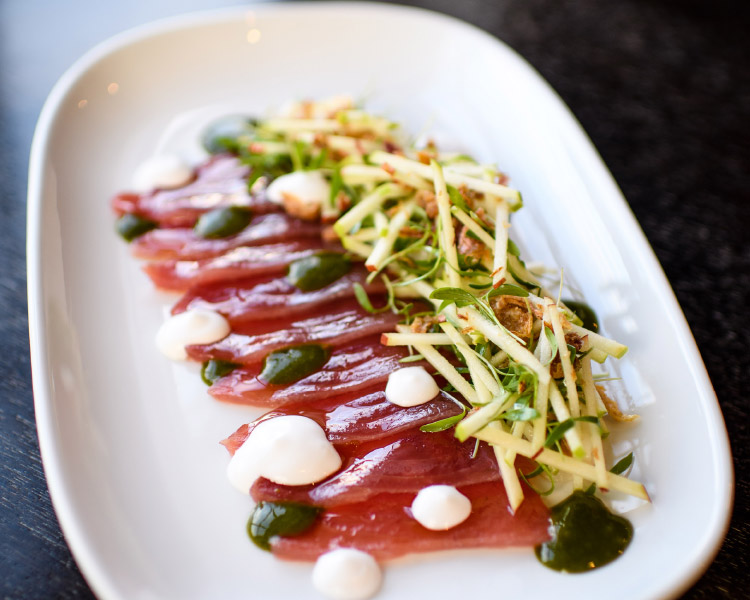 Shed 5 Tuna Sashimi with Apple and Lychee Salad, Nam Jim, and Coconut Sauce

Shed 5 occupies one of the oldest wharf stores in Lambton Harbour. A water's edge position and in-house fishmonger contribute to its standing as Wellington's premier seafood restaurant.
A Wellington institution, Shed 5 is celebrating its 25th anniversary this year.
This recipe was provided by Head Chef, Geoff Ngan. Inspired by his wife, fresh tuna is the hero of this dish with flavours of classic Thai green curry providing a unique twist.
Serves 2 as an entree.
INGREDIENTS
250g big-eye tuna (or other good sashimi fish such as salmon, groper etc)
Salt
Coconut Sauce
20g lemongrass
20g fresh root ginger, peeled
15g shallots
4 kaffir lime leaves
squirt of canola oil
100g coconut cream
1 Tbsp fish sauce
Nam Jim
10g fresh coriander root
80g sliced shallots
30g palm sugar
1–2 green chillies, deseeded
10ml fish sauce
80–100 ml fresh lime juice
100g picked coriander leaves
Apple and Lychee Salad
1 apple (Geoff prefers Granny Smith)
50g lychees, fresh or tinned
pinch micro coriander leaves
20g crispy fried shallots
drizzle of Pukara Wasabi EVOO
pinch of sea salt
INSTRUCTIONS
Firstly prepare the coconut sauce. Finely slice the lemongrass, ginger, shallots and lime leaves and place into a saucepan with a little canola oil. Sweat these ingredients very gently over a low to medium heat. A tablespoon of water can be added and a lid to promote steam.
Once the ingredients have begun to release their aromas, add the coconut cream and simmer very gently for about 30 minutes, stirring occasionally.
Remove from the heat and allow to stand and cool for about an hour. Using a sieve, strain the coconut sauce into a bowl. Use a wooden spoon or spatula to push and squeeze as much juice and flavour from the solid ingredients as possible. Discard any solids. Season the infused coconut sauce with fish sauce, use more or less depending on personal taste. Cover the sauce with cling film and refrigerate.
For the nam jim, place all of the ingredients except the coriander leaves into a blender. Blend until completely smooth and all of the palm sugar has dissolved. Add the coriander and blend until smooth. Sieve the sauce into a bowl and refrigerate.
For the salad, slice the apple into thin, matchstick-sized pieces. Slice the lychee into eight. Snip the baby coriander. Place all the salad ingredients into a bowl. Lastly add the shallots. Add a drizzle of wasabi oil and a pinch of salt. Mix the salad.
To serve, slice fish thinly and evenly with a very sharp knife. Lay on a plate. Do not put in the fridge – sashimi should not be served cold. Lightly season with salt then dress the tuna with the nam jim and the coconut sauce, and top with the salad.