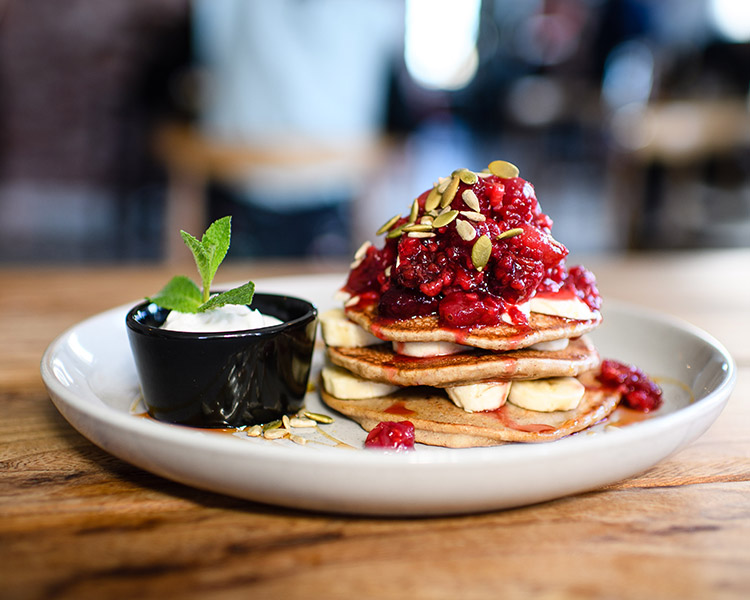 The Botanist's Buckwheat Pancakes with Berry Compote & Banana

Vegan and gluten free. Recipes makes 6 medium sized pancakes.
INGREDIENTS
Compote
500g fresh or frozen mixed berries
30g raw or soft brown sugar
1tsp vanilla essence
Zest of 1 mandarin
Pinch of shaved nutmeg
½ cinnamon stick
1 star anise
2 turns of black pepper
Pancakes
120g buckwheat flour
20g ground LSA
1½ tsp baking powder
1 tsp ground cinnamon
pinch of sea salt
250ml vegan milk (almond, coconut, soy)
30ml coconut oil, melted
1 tsp vanilla extract
Toppings
250g Zenzo coconut yoghurt, sweetened with 1 Tbsp maple syrup
1 large banana, thinly sliced
250g fresh berries
pumpkin and sunflower seeds, toasted
apple syrup
fresh mint to garnish
INSTRUCTIONS
For the compote, place all ingredients, except 200g of berries, in a pan over low heat and stir until sugar has dissolved.
Cover the pan and leave on low heat for 10 minutes. Stir again and cook, covered, for 5 more minutes. Stir once more then remove from heat and leave with lid on to finish cooking. The fruit should be soft but still hold its shape. Once cooled fold through the remaining berries.
To make the pancakes, place all dry ingredients in a large mixing bowl, then add the coconut oil, vanilla essence, and the milk gradually while mixing.
Heat a non-stick pan with a small amount of coconut or olive oil to a medium heat, then add a large spoonful of the mix. Cook until lightly bubbling, then flip.
Repeat until the mixture is finished and then layer the sliced banana between each pancake. Add a dollop of yoghurt, top with berry compote and toasted seeds, drizzle with the apple syrup, and add mint to garnish.
Recipe from The Botanist Lyall Bay, who bring the best in tasty organic vegetarian & vegan fare to Wellington's beautiful south coast. Views to the sea, with a sheltered sunny north facing courtyard, six rotating craft beer taps, botanical cocktails, vegan & organic wines.