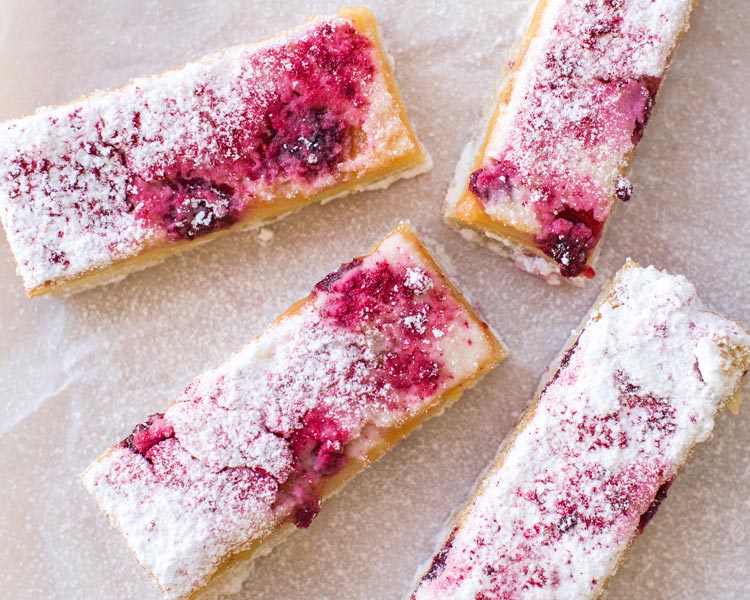 Sweet Bakery's Lemon & Raspberry Slice

Recipe from Cuba Street - A Cookbook.
INGREDIENTS
Shortbread base
450g plain flour
150g caster sugar
350g softened butter
Lemon topping
4 eggs
260g caster sugar
60g plain flour
⅔ cup lemon juice
¼ cup frozen raspberries
Garnish
Icing sugar and freeze-dried raspberries (optional)
INSTRUCTIONS
Pre-heat the oven to 180°C fan bake. Line a large deep baking tray or tin with baking paper.
Blend the shortbread ingredients in a food processor until combined and it forms a soft dough. Press the dough evenly into the lined baking tray or tin – it should make a layer of about 1.5cm (note: the base won't cook properly if it is too thick). Set aside while you make the topping.
To make the lemon topping, whisk together the eggs and sugar in a bowl. Add the flour, then while whisking pour in the lemon juice and mix until smooth. Pour the topping over the base and scatter frozen raspberries evenly over the top.
Bake for approximately 35 minutes or until the lemon topping is just golden on the edges and set. Allow the slice to cool in the tray, then dust with icing sugar and garnish with freeze-dried raspberries (optional). Cut with a sharp, hot knife to serve. The slice will be easier to cut if chilled in the fridge overnight.