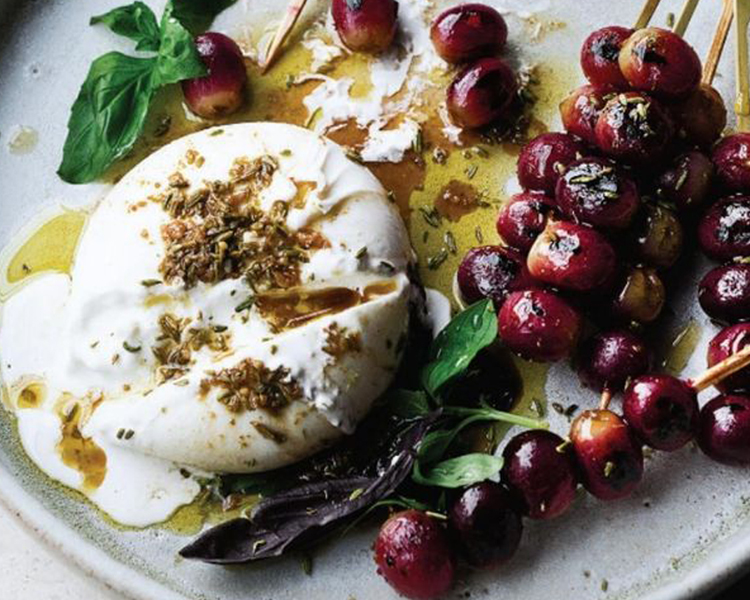 Ottolenghi's Burrata with Grilled Grapes & Basil

Recipe by Yotam Ottalenghi 
What is Burrata?
The name "burrata" means "buttered" in Italian.
Generally sold in balls of different sizes throughout southern Italy where Burrata took birth. Burrata has a moisture content of 75% and is soft, mild and tastes of fresh milk and delightful cream. Shreds of Stracciatella & cream seep out when you slice into delicate walls of pasta filata (being mozzarella) and when broken in half the centre will ooze.
The outside is firm mozzarella, the inside an oozy combination of stracciatella and cream. The combination of the three is unsurprisingly good. Burrata can be paired with all sorts of flavors—citrus fruit or juice, sweet balsamic, peppery arugula, or toasted spices. It can be served as a starter or as a creamy rich component of a salad or pasta dish.
At Moore Wilson's we receive fresh burrata each week from Massimo's in Auckland.
INGREDIENTS
300g seedless red grapes
2 Tbsp wine vinegar
3 Tbsp olive oil
1 garlic clove, crushed
1 ½ Tbsp dark brown sugar
1 ½ Tbsp fennel seeds, toasted and lightly crushed
Flaked sea salt and black pepper
3 x 125g of Massimo's Burrata
6 small purple or green basil sprigs, to serve
INSTRUCTIONS
Put the grapes in a medium bowl with vinegar, oil, garlic, sugar, 1 teaspoon of the fennel seeds, ¼
teaspoon of flaked salt, and plenty of pepper. Mix well and marinate for at least 1 hour and up to 1 day. Thread 5 or 6 grapes onto each skewer. Don't throw away the marinade; you'll need it when serving.
Place a grill pan over high heat and ventilate your kitchen well. Once hot, add the grape skewers in batches and grill for 2 to 3 minutes, turning after 1 ½ minutes. Remove from the heat.
When ready to serve, tear the balls of burrata in half and place one-half on each plate. Arrange the grape skewers to lean against them—2 per portion—and spoon 1 ½ teaspoon of the marinade over the cheese. Alternatively, arrange on a platter to serve a crowd. Sprinkle with the remaining 1/2 teaspoon of fennel seeds, garnish with a sprig of basil, and serve.