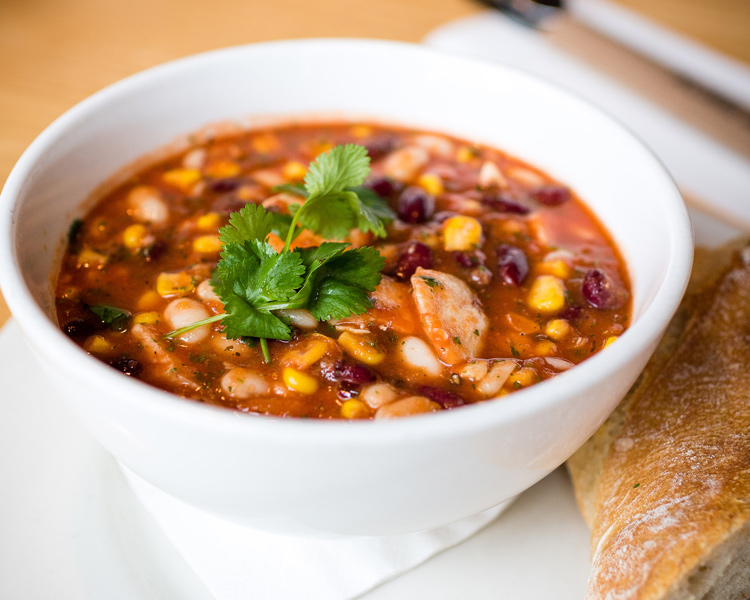 Prefab's Mexican Jumping Bean Soup

You can't beat a warming soup in winter and this one ticks all the boxes - filling and flavoursome! Recipe by Prefab for the 2018 Moore Wilson's Calendar.
INGREDIENTS
50ml olive oil
½ tsp black mustard seeds
300g onion, diced
100g red capsicum, diced
50g garlic, chopped
¼ tsp chili flakes
½ tsp ground coriander
¼ tsp ground cumin
1 Tbsp smoked paprika
1 Tbsp harissa
1 tsp salt
20g brown sugar
750g crushed tomatoes
400ml chicken stock
200g carrot, diced
100g corn kernels
100g celery, diced
300g cooked red kidney beans
300g cooked cannellini beans
200g chicken thigh, cooked and sliced
1 Tbsp fresh coriander
INSTRUCTIONS
Fry mustard seeds in oil until they begin to pop, around 10 minutes.
Add onion and capsicum. Cook a further 10 minutes or until onion is translucent.
Stir in garlic, spices, harissa, salt, and brown sugar. Heat through until fragrant.
Stir in tomatoes, stock, carrots, corn and celery. Cook until vegetables are tender.
Add beans and chicken, bring back to the boil.
Serve with chopped coriander and an ACME baguette.