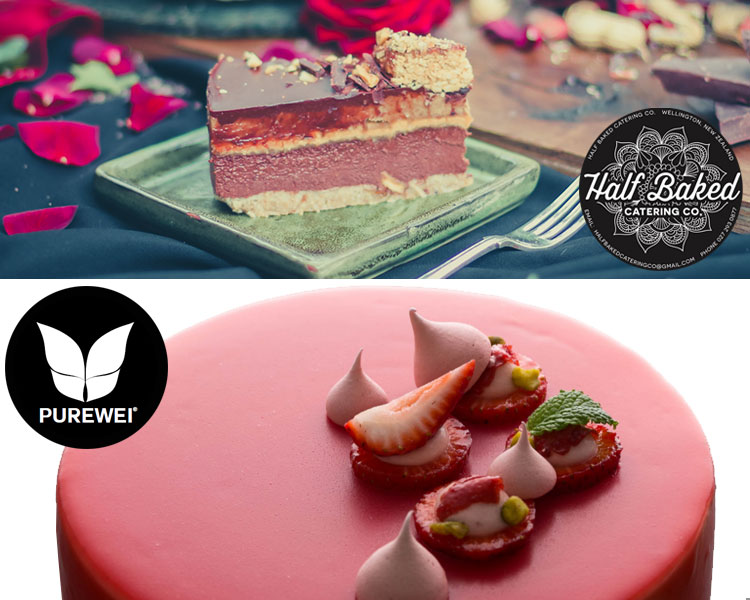 Sweet Fashion and Raw Goodness!

Purewei and Half Baked Catering Co join the already impressive range of locally baked cakes and patisserie at Moore Wilson's Fresh!
Purewei
Available exclusively from Moore Wilson's Tory Street Fresh.
Wei Chen has a unique understanding and mastery of traditional and modern patisserie, introducing Wellington to new and inventive flavours inspired by different cultures.
More than just cakes, Purewei produce 'sweet fashion'. Handcrafted with passion, using only top ingredients, these sweet treats will ensure you have an unforgettable tasting experience.
Sold by the whole cake only. Current flavours include:
Fraisier Strawberry compote, mousseline cream, strawberry mousse with strawberry glaze and Swiss meringue
Rum Banana & Milk Chocolate Rum banana, milk couverture mousse with cocoa sponge and hazelnut sablé
Opera Coffee buttercream layer with chocolate ganache and almond sponge
Matcha Island Green tea mousse, adzuki bean créme with matcha biscuit joconde
Peanut Chocolate Peanut creme legere, peanut chocolate mousse with almond & peanut dacquoise and honey financier
Caramel Breton Caramel mousse, salted caramel, dark chocolate cremeux with caramelized walnut and sable breton
Orders welcome. Phone our Fresh Market on 04 384 9906.
Half Baked Catering Co.
Available from Moore Wilson's Tory Street and Porirua Fresh.
Wellington sister Zara and Shinee credit growing up in Cuba Street cafe Midnight Espresso for providing them with the expertise to invent their own recipes, and instilling a lifelong passion for creating food with love.
They believe that healthy and joyful lives should be nourished by incredible food. Taking inspiration from the Real Food movement, all of Half Baked's food is made from scratch using as many local, raw and organic ingredients as possible. Their delicious 'un-baking' is vegan, gluten free, and refined sugar free.
Sold by the slice. Current flavours include:
Snickers Slice Cashew coconut base, chocolate mousse layer, crunchy peanut butter, coconut & date caramel, creamy chocolate ganache
Raspberry & Chocolate Mousse Slice Cashew & coconut base, Chocolate mousse with whole raspberries, Raspberry cream layer, Creamy chocolate ganache
Individual Carrot Cakes A mix of almonds, cashew nuts, walnuts, mixed spices, carrot and sultanas, layered with lemon cashew cream icing.
Bliss Balls Lemon, Raspberry and Coconut or Apricot, Almond and Coconut
Whole cakes available to order.