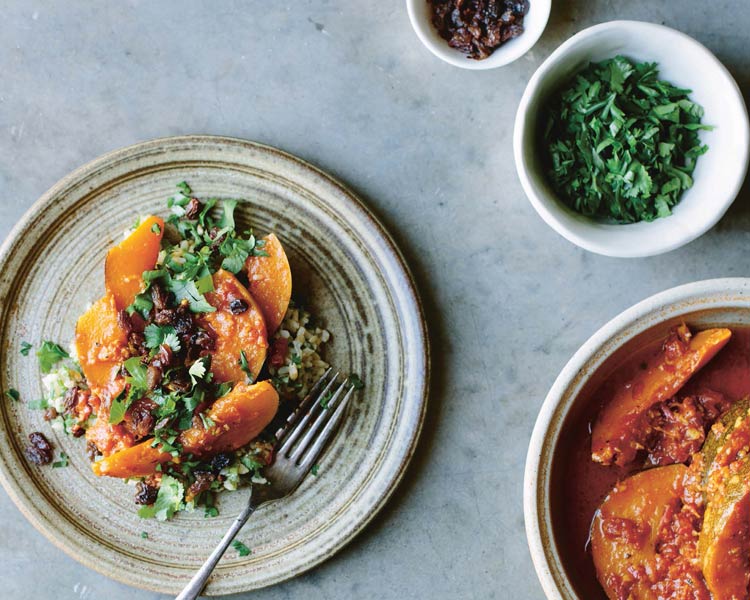 Saffron-buttered Pumpkin with Herbed Brown Rice

Don't let this recipe's humble looks deceive you. For beneath its tomatoey goodness lies tender chunks of pumpkin in a sauce rich with saffron, spice and most importantly . . . butter! The vinegar-soaked sultanas add a nice piquant note, while the herbed rice not only offers freshness but also mops up all those wonderful juices you won't want to waste. To bump up the protein, serve alongside a chickpea or lentil-based dish, or toss cooked chickpeas through the tomato sauce before serving or serve over herbed quinoa instead of rice. Soak the brown rice overnight in the stated water amount before cooking (in the same water) the following day, to improve its digestibility.
Recipe from Emma Galloway A Year In My Real Food Kitchen.
Gluten Free. Serves 4 .
INGREDIENTS
300g (1 cup) brown rice (I use short-grain)
50g natural sultanas, roughly chopped
2 tablespoons red wine vinegar
30g butter or ghee
2 tablespoons extra-virgin olive oil
3 cloves garlic, roughly chopped
1 tablespoon finely grated ginger
Good pinch of saffron
1/2 teaspoon ground cumin
1/2 teaspoon ground coriander
Pinch of ground cinnamon
2 large tomatoes, finely chopped
600g Buttercup pumpkin, deseeded + cut into wedges
1 teaspoon fine sea salt
Big handful of flat-leaf parsley, roughly chopped + extra, to serve
Big handful of coriander, roughly chopped
INSTRUCTIONS
To cook brown rice; wash, drain and place in a saucepan with 650ml cold water, cover with a tight-fitting lid and bring to the boil. Reduce heat to lowest setting and simmer, covered, for about 40–45 minutes until the water is absorbed and rice tender. Remove from heat, keeping lid on, and allow to stand for 10 minutes. (Alternatively, cook in a rice cooker following the manufacturer's instructions.)
Combine sultanas and vinegar and set aside.
Heat butter and olive oil in a large saucepan over medium heat. Add garlic, ginger and saffron and cook, stirring, for 30 seconds until fragrant. Add cumin, coriander and cinnamon, and stir for 10 seconds before adding tomatoes. Cook, stirring, for 5 minutes or until juices have started to release from the tomatoes. Add pumpkin, salt and 250ml (1 cup) water. Cover and bring to the boil before reducing heat to a simmer, then cook for 10 minutes. Remove lid, give it all a good stir and cook for a further 10 minutes or until pumpkin is tender. If you find the sauce is still a little too runny and the pumpkin is cooked, carefully transfer the pumpkin to a bowl, doing your best not to break it all up. Return sauce to heat and simmer for another 5–8 minutes until thick, taste and adjust seasoning if needed, then pour over pumpkin.
When ready to serve, mix the chopped parsley and coriander through rice. Serve mounds of rice topped with pumpkin and sauce. Drain sultanas (reserve vinegar for another use, such as to add to a vinaigrette) and scatter over pumpkin along with a little extra chopped parsley.
TIPS
If you're vegan or dairy-free, simply omit the butter and increase the olive oil to 4 tablespoons.