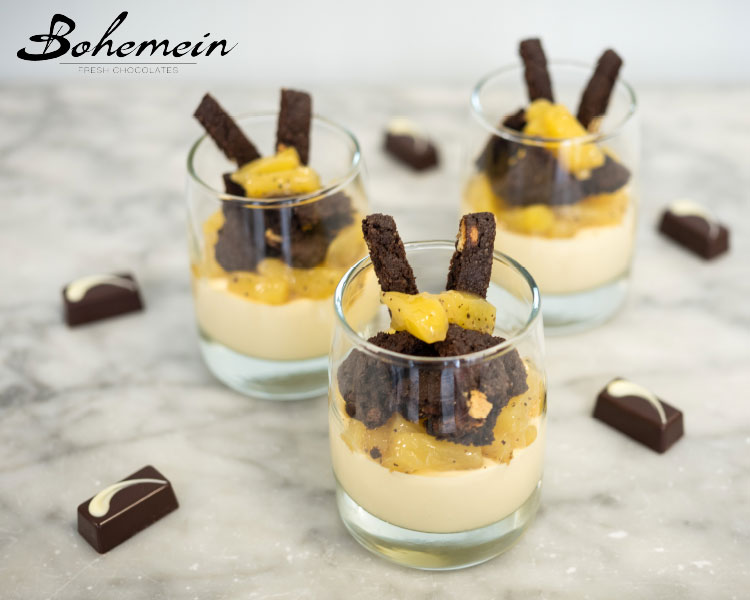 Bohemein's White Chocolate Bavarois with Pineapple Black Pepper Compote and Cookies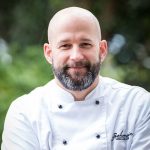 Recipe shared by Jiri Havlik for Moore Wilson's 2020 Calendar.
Bohemein Fresh Chocolates
109 Featherston Street
bohemein.co.nz
A selection of Bohemein chocolates avialable from
Moore Wilson's Fresh.
Time to make 1.5 hours + overnight (start the Bavorois and Compote the day prior). This dessert is based on our filled chocolate we currently make - Pineapple and Black Pepper Ganache.
INGREDIENTS
White Chocolate Bavarois - 10 servings.
4 egg yolks (80g)
100g sugar
6g unflavoured gelatin powder
40ml cold water
120g white chocolate couverture pieces
1 vanilla pod
240ml milk
240ml cream
Pineapple and Black Pepper Compote - 10 servings.
1 medium-sized fresh pineapple
Sugar, optional to taste
Pineapple juice or water, enough to just cover your pineapple pieces
Juice of 1 small lemon or lime
Sprinkle of freshly ground black pepper.
Cornflour
2 tablespoons dark rum (optional)
Dark & White Chocolate Cookies – 48 cookies
225g butter, room temperature
1 cup soft brown sugar
½ cup white sugar
2 eggs (100g)
2 cups plain flour
½ cup cocoa powder
1 tsp baking soda
100g white chocolate couverture, broken into pieces
100g 70% dark chocolate couverture, broken into pieces
INSTRUCTIONS
Start the day prior by making the bavarois. Begin by sprinkling gelatin over cold water to soak.
Whip the egg yolks and sugar until light and fluffy.
Cut vanilla bean in half, scrape out seeds and add to milk, including the pod. Bring to scolding point, do not boil. Gradually add to the egg and sugar while mixing fast. Return to the heat and bring back to scalding point while stirring constantly. Do not boil or the eggs will scramble.
When done, remove from pot back into the bowl you mixed egg and sugar in. Add soaked gelatin and mix well to dissolve. Allow to cool to room temperature. You can speed this up by placing in the fridge for 5 minute intervals, stirring after every 5 minutes.
Whip cream in cold bowl then fold through the cooled anglais mix above.
For the compote, peel the pineapple, cut into wedges, removing the core, cut into small pieces and place into a pot.
Add sugar (if using), water or pineapple juice, lemon juice, and black pepper in a saucepan. Bring to a boil, then simmer until pineapple is nice and tender. Using a perforated spoon, remove pineapple from syrup.
Reduce syrup by half and thicken with cornflour mixed in a little water. Add rum (optional) and the reserved pineapple. Stir all together and keep cooking until pineapple is nicely glazed with the syrup. Cover and store in the fridge for a few hours or overnight.
For the cookies, preheat oven to 190°C.
Cream the butter and sugars until pale.
Beat the egg and add to the creamed butter and sugar.
Sift the flour, cocoa and baking soda and add to the above. Fold both chocolates through the dough to combine well. Portion with spoon into small sized portions. Place on a tray lined with baking paper. Push down a little so portions are flat. Leave approx. 5 cm spaces 12 portions per standard home baking tray .
Bake at 190°C. for approximately 10 minutes. Don't burn but make sure cookies are quite dry. That will add a  nice texture to your assembled dessert. Cut few cookies when hot into long strips to use as garnish later. You will not need all the cookies to make the dessert.
Cool down to room temperature then break up a dozen or so cookies to use in the dessert. If storing, make sure to so in an airtight container.
To assemble, take Bavarois Mousse out of the fridge 1 hour prior to serving. Assemble just before serving by spooning Pineapple compote over bavarois mousse. Top with broken cookies. Gently stir your reserved Bavarois cream and spoon over the top and place the cut cookies to add height. Add mint leaves for colour or a few sprinkles of pink peppercorns. Be creative.
Have fun and Dobrou Chut' (Czech saying before you commence eating meaning enjoy your meal!)