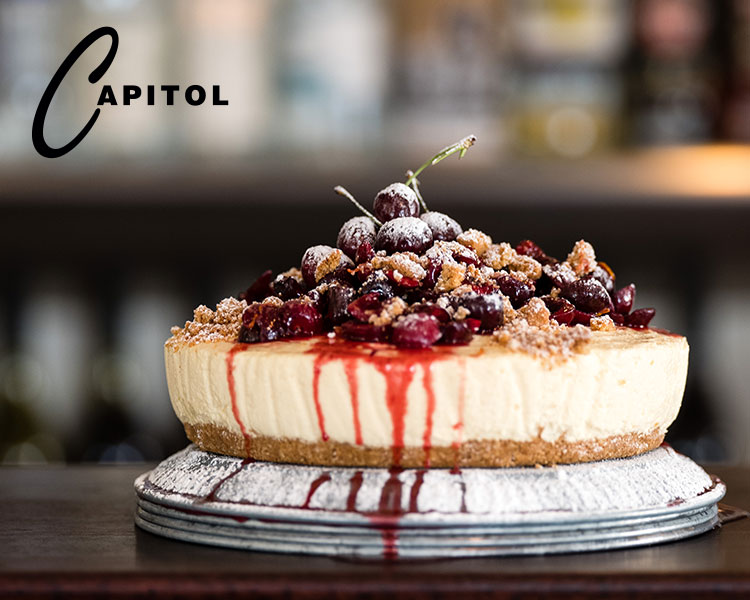 Capitol's Vanilla Cheesecake with Berries

We love cherry season; to us it's the herald of Christmas and all its culinary
overabundance. This dish is visually beautiful, heaped with fresh cherries, their juice running over the delicate and light cheesecake. Cheesecake takes a few hours to set so it's a good idea to prepare it the day before so you can focus on your festive meal knowing that dessert is ready to go. Serve it with an overkill of fresh cream and a glass of chilled Muscat de Beaumes de Venise.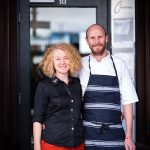 Recipe shared by Tom and Kate Hutchison for Moore Wilson's 2020 Calendar.
Capitol Restaurant 
10 Kent Terrace 
capitolrestaurant.co.nz
INGREDIENTS
Base
12 Anzac biscuits (we use Bakerboys)
100g butter, melted
Filling
900g cream cheese, softened to room temperature
200g sour cream
250g caster sugar
4 eggs, separated
3 vanilla pods, scraped
½ tsp vanilla essence
3 leaves gelatine, bloomed in cold water
50ml fresh lemon juice
Topping
500g – 1kg fresh cherries, stoned (the more the better!)
4 Tbsp icing sugar
1 lemon, zest and juice
INSTRUCTIONS
In a food processor, crumb the biscuits and set aside 1/3 cup to garnish. Add the melted butter and mix until just combined. Tip into a greased and lined 23cm high side spring-form baking tin and press to form an even biscuit base. Refrigerate.
In an electric mixer, whisk the egg yolks, vanilla seeds, essence and 125 gm sugar on high until it's pale and fluffy. Change to the beater attachment and on low speed add the soft cream cheese in batches allowing the cheese to integrate before each addition, increasing the mixer speed as you go. Next, add the sour cream and beat until smooth.
In a small container, microwave the gelatine and lemon juice, a few seconds at a time, until just dissolved. Stir this thoroughly through the cream cheese mix.
In a new bowl, whisk the egg whites and the remaining 125 gm sugar to form medium peaks. Fold this into the cream cheese mixture in three parts, being careful not to knock the air out of the meringue. Spoon the cheesecake mix onto the base and refrigerate to set (5 hours or overnight).
Serve the cheesecake straight from the fridge. Just before serving, stone the cherries and mix through the icing sugar, lemon zest and the juice of ½ lemon. Pile them on the cheesecake, sprinkle the remaining Anzac crumbs and dust with icing sugar.