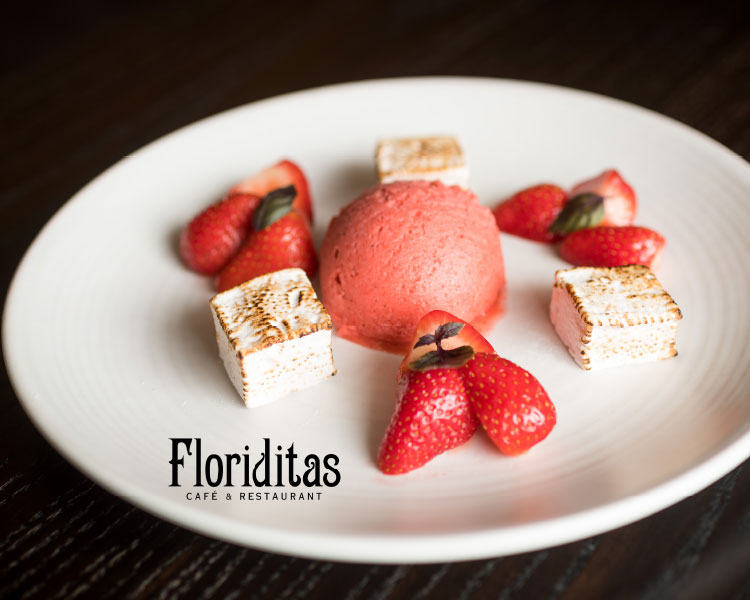 Floriditas Strawberry Basil Sorbet with Strawberry Marshmallow & Macerated Strawberries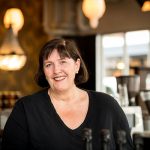 Recipe shared by Julie Clark
for Moore Wilson's 2020 Calendar.
Floriditas Cafe and Restaurant 
161 Cuba Street
floriditas.co.nz
INGREDIENTS
Sorbet
400g fresh strawberries
125g sugar
25ml glucose
5ml fresh lemon juice
Pinch of salt
8 large basil leaves, very finely chopped
Strawberry Marshmallows
200g granulated sugar
100mls water
1 Tbsp liquid glucose
4 egg whites
2 tsp Fresh As strawberry powder
100ml water
30g gelatin powder
80g cornflour
80g icing sugar
Macerated Strawberries
250g strawberries
2 tsp icing sugar
2 Tbsp Grand Marnier or orange juice
INSTRUCTIONS
For the sorbet, hull strawberries and slice into a bowl. Toss the strawberries with sugar and glucose and stir periodically while letting sit for 1 hour. Puree the strawberries sugar mix with the basil, lemon juice, and salt until smooth. Sieve, chill and churn.
For the marshmallows, soak the gelatin in the 100mls of water in a small pot and set aside. In a seperate bowl, sift the cornflour and icing sugar together. Line a Swiss roll tin with baking paper and sift a generous amount of the icing sugar mix onto the baking paper.
Whip egg whites to stiff peaks in a standing mixer. Mix together the sugar, glucose and 200ml water over a medium heat until dissolved. Turn up heat and boil until syrup reaches 120°C on a sugar thermometer.
Gently melt the gelatin over a very low heat. Pour the hot sugar syrup onto the egg whites with the mixer running slowly then add the melted gelatin. Add the strawberry powder and continue beating beat until thick & glossy. Pour into a Swiss roll tin lined with baking paper and a good dusting of the icing sugar cornflour mix. Sift the remaining sugar corn flour mix over the top and leave in a dry place over night. Turn out onto the bench and cut as required with scissors.
To macerate the strawberries, halve the fruit then toss with icing sugar and drizzle the Grand Mariner over leave for 10 -30 minutes.
To plate, toast the marshmallows using a blow torch or under a 180°C grill for about 2 -3 minutes. Place a generous scoop of sorbet in the middle of the plate, surround with toasted marshmallows & macerated berries.