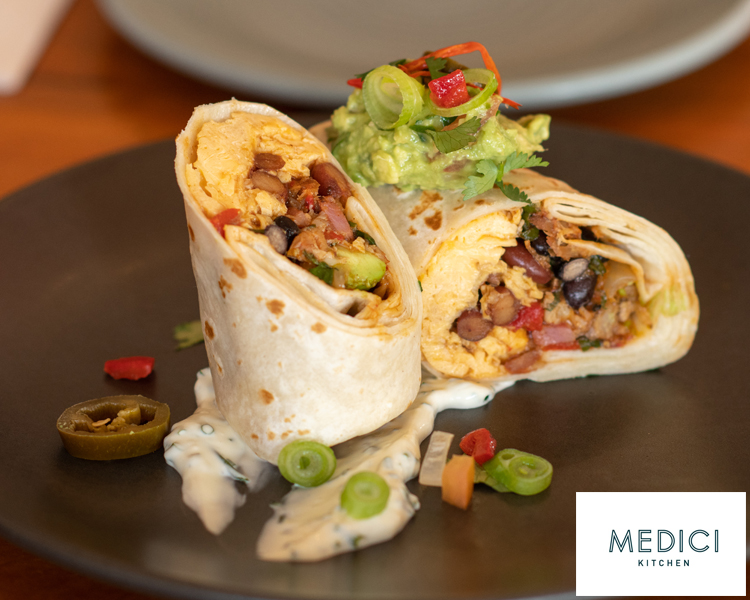 Medici Kitchen Breakfast Burrito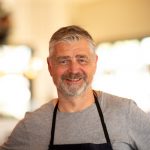 Recipe shared by Nick Arnold
for Moore Wilson's 2021 Calendar
Medici Kitchen
Kitchener Street, Martinborough
www.facebook.com/cafemedici1/
INGREDIENTS
½ large red onion, finely chopped
2 garlic cloves, finely chopped
1 yellow or red capsicum, diced
380g leftover BBQ pulled pork or Magills Pulled Pork from Moore Wilson's
125 ml BBQ sauce
8 eggs, lightly beaten
juice from 1 lime
½ bunch of fresh coriander, finely chopped
8 large flour tortillas
120g mature cheddar cheese, grated
x1 400g tin black beans, drained and rinsed
2 Tbsp rapeseed oil or olive oil
1 cup guacamole
1 cup fresh tomato and herb salsa
½ cup sour cream
INSTRUCTIONS
Heat up two tablespoons of oil in a large pan and fry onion, garlic and pepper until they start to soften approximately 8 minutes.
Add the pulled pork and beans and mix well letting the filling heat up a bit before you add BBQ sauce.
In another pan, scramble the egg mix until softly scrambled. Add to the pulled pork mixture with the lime juice and chopped coriander. Give everything a mix and season to taste.
Prepare your tortillas. You might want to soften them up in the microwave for a few seconds to make them more pliable.
Put some filling not quite in the centre but more towards the top of your tortilla (the amount of filling will depend on the size of your tortilla) and sprinkle over some grated cheese before folding.
Start folding your burrito by folding over the top of the tortilla then the sides and roll up tightly and set aside. Repeat with the remaining tortillas.
Finishing touches and serving suggestions
- At this point you can wrap your burritos tightly in some aluminium foil to keep them intact and eat as they are, wrap style
- For crispy burritos, heat up a little oil in a pan and fry them on both sides until browned and crispy
- Serve your burritos with sour cream, guacamole and fresh tomato and herb salsa
Makes 8 burritos