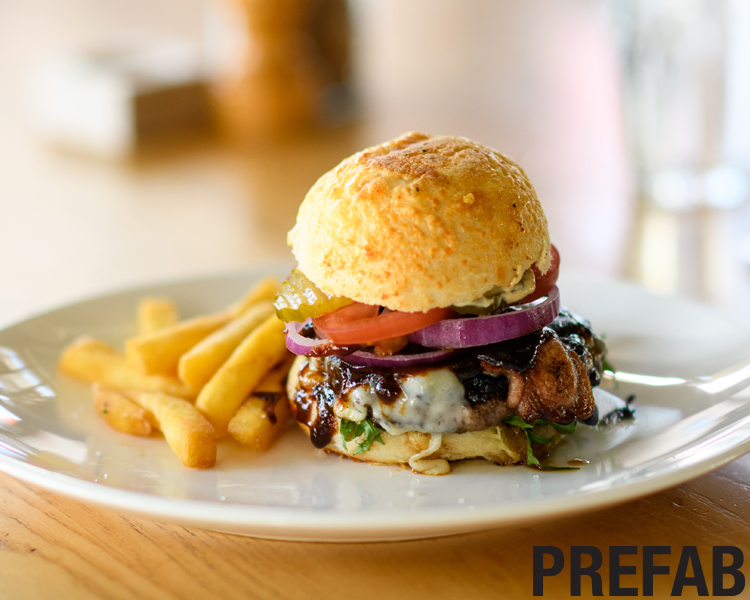 Prefab ACME Burger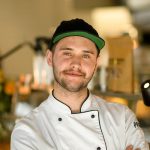 Recipe shared by Nick Novikov
for Moore Wilson's 2021 Calendar
Prefab
Jessie Street, Te Aro
www.pre-fab.co.nz/
INGREDIENTS
The taste secret to this recipe relies on the pan on which the burger is cooked - ideally a large, well-cured, cast-iron pan
Burger
4 whole parmesan buns, sliced in half
1 cup rocket leaves, washed
1 whole tomato, medium size, washed, cut into 3mm slices
3 whole ACME Berlin Gherkins, cut lengthwise into 2mm slices
½ whole red onion, peeled and thinly sliced
4 slices provolone cheese
4 Tbsp of your favourite BBQ sauce
4 Tbsp of your favourite aioli dressing
salt, to taste
freshly ground black pepper, to taste
Beef Patties
680g beef rump or beef chuck steak
1 Tbsp pork fat
4 whole bacon rashers
INSTRUCTIONS
Place all the ingredients, except the minced beef steak and bacon rashers, in separate bowls ready for assembly of the ACME Burgers.
Mince beef with pork fat. Divide into four round burger patties, approximately 12mm thick.
Gradually heat up your cast-iron pan to high heat. Add a dusting of salt to the pan. Once the pan begins to smoke add the
burger patties. Cook for 3 minutes, gently flip, then cook the other side for three minutes. Remove and place the cooked burger patties on a warm plate.
Cook the bacon in a pan on medium-high heat until cooked brown and crispy. Remove the cooked bacon from the fry pan and place it onto a paper towel to absorb excess bacon fat.
Assemble each ACME Burger as follows:
Spread the aioli dressing across the base half of the parmesan bun, then stack each layer in sequence onto the bun:
1 cooked burger patty, 1 slice of provolone cheese, 1 tablespoon BBQ sauce, 1 rasher of cooked bacon, ¼ of the red onion slices, ¼ of the rocket leaves, 1/4 of the tomato slices, 3 slices of ACME Berlin Gherkins, season with freshly ground black pepper and salt then top with the other half of the parmesan bun. Serve, ideally, with hand-cut French Fries.
Serves 4