Miss Fortune's Warm Apple & Cinnamon Donuts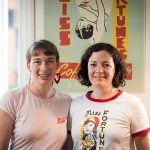 Recipe shared by Freya Atkinson & Becky Guppy for Moore Wilson's 2020 Calendar.
Miss Fortune's 
105 Hutt Park Road, Seaview
Find them on Facebook
INGREDIENTS
Brioche donut dough
335g high grade flour
10g fresh yeast
40g unsalted butter
30g caster sugar
1 tsp salt
170ml warm milk
2 egg yolks
Stewed apple
3 apples, cut into small cubes
30g butter
3 Tbsp water
¼ cup brown sugar
1tsp cinnamon
Zest of 1 lemon
INSTRUCTIONS
Using an electric mixer with the K bar attachment first, place fresh yeast, butter, flour and salt. Mix until everything is a sandy texture then change to the dough hook attachment. Add the lukewarm milk and egg yolks. Mix until a soft dough forms, approx. 5-10 mins. Leave to rise in a warm spot for 45 mins. Knock back the dough and shape into 40 gm balls. Allow to rise until these have doubled in size.
While dough is rising, make the stewed apple. Put all the ingredients in a saucepan and cook until tender, approximately 15 minutes. Add more water if necessary.
To cook donuts, you will need about 2 inches of rice bran oil or similar in a large
saucepan. Heat this to 180°C and fry for 1-2 mins on either side. Cook until golden brown and cooked through.
Cool slightly and roll in cinnamon sugar will still warm. Serve while still warm with stewed apples and crème anglaise or store bought custard.