Seashore Cabaret Goodness Gracious Bowl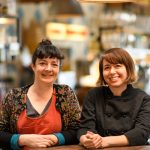 Recipe shared by Brianne McLean & Freya Atkins
for Moore Wilson's 2021 Calendar
Seashore Cabaret
The Esplanade, Petone
www.facebook.com/SeashoreCabaret/
INGREDIENTS
Tempeh Marinade
½ cup rice bran oil
x1 250g block tempeh
1 Tbsp crushed ginger
1 Tbps ground turmeric
2 tsp crushed garlic
2 Tbsp tamari
2 Tbsp balsamic vinegar
2 Tbsp lemon juice
1 Tbsp maple syrup
Tahini Dressing
1 cup tahini
½ cup apple cider vinegar
¼ cup tamari
¼ cup lemon juice
½ cup water
2 Tbsp sesame seeds
1 ⅓ cup mild olive oil
2 Tbsp maple syrup
2 Tbsp chives, finely chopped
2 Tbsp parsley, finely chopped
Beetroot Hummus
400g tin of sliced beetroot
400g tin chickpeas
2 Tbsp tahini
1 Tbsp lemon juice
1 ½ tsp pomegranate molasses
1 tsp crushed garlic
Orange Vinaigrette
Zest of 1 orange
¼ cup orange juice
2 Tbsp apple cider vinegar
1 Tbsp maple syrup
¼ tsp each salt and pepper
¾ cup mild olive oil
Pickled Red Cabbage
1 cup white vinegar
2 Tbsp caster sugar
1 Tbsp salt
2 cups shredded red cabbage
Cauliflower Couscous
1 cauliflower, cut into florets
1 tsp salt
1 cup fresh chives, parsley and mint, finely chopped
Green Lentils
2 cups green lentils
1 Tbsp salt
1 bay leaf
Baby Carrot and Lentil Salad
12 baby carrots
1 tsp ground cumin
1 tsp brown sugar
1 Tbsp cider vinegar
salt and pepper, to taste
vegetable oil
INSTRUCTIONS
For the tempeh marinade combine all ingredients except the oil. Mix together and slowly incorporate oil. Slice tempeh into 10 slices. Add to
marinade and marinade for 24 hours to soak in the flavour. Grill on all sides until nice and golden.
For the tahini dressing combine all ingredients in a blender, except oil and herbs. Blend until smooth and slowly incorporate oil. Pour into a mixing bowl and whisk in the fresh herbs.
For the beetroot hummus drain beetroot and chickpeas, discard liquid. Combine all ingredients in a food processor and blitz until smooth.
For the orange vinaigrette combine all ingredients except oil. Slowly whisk in oil. Check seasoning.
Half of the vinaigrette will be used in the Cauliflower Coucous and half in the Carrot and Lentil Salad.
For the pickled red cabbage combine vinegar, sugar and salt. Heat until sugar and salt have dissolved. Pour over cabbage.
For the cauliflower couscous combine cauliflower with salt and pulse in a food processor until it resembles couscous. Place in a mixing bowl and toss with the Orange Vinaigrette and chives, parsley and mint.
For the green lentils place in a small pot and cover with plenty of water, or vegetable stock if you have it. Add salt and bay leaf and bring to a boil, then reduce heat and simmer just until tender. Approximately 10 minutes. Drain and remove bay leaf.
For the carrot and lentil salad cut baby carrots lengthwise. Coat the carrots in the ground cumin, brown sugar, cider vinegar, salt and pepper and oil. Roast in oven at 220°C for 20-30 minutes, or until tender but still have a bit of bite. Toss with green lentils, rocket and orange vinaigrette.
Serves 6