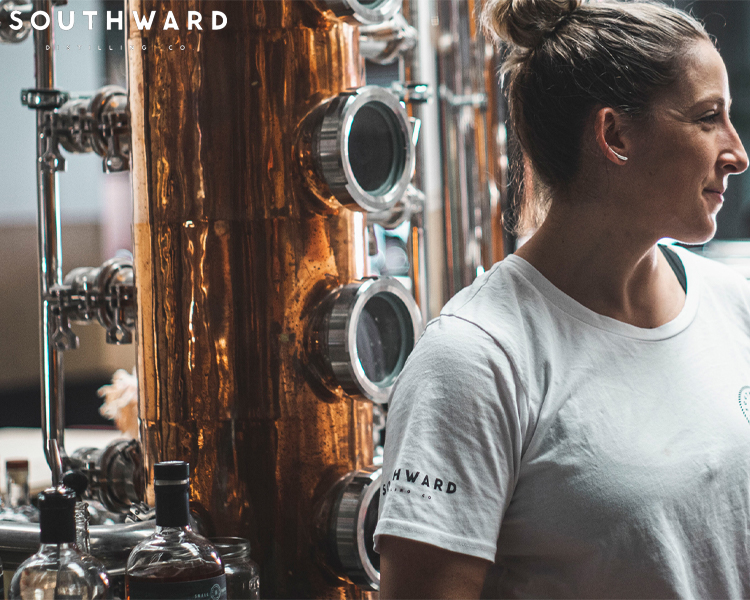 Supplier Profile: Southward Distilling

Southward Distilling is a local craft distillery on Cuba street in the heart of Wellington producing gin, vodka and soon whiskey.
Southward started as a whiskey fueled dream and led to a passion for distilling, Frankie the founder and distiller, wanted to create spirits that told a story. From the name being inspired by Frankie's Grandpa's boat, The Southward Ho, to the still being names after her grandma. It was about taking the idea of sharing a drink with someone you love and the memories that experience can create. Taking an approach to gin that considers different palettes and tastes, Southward is all about experiencing something familiar but a bit different.
Making gins in Kay, their 300L hybrid still, The Mountain Gin is bold and full and made to go with and compliment any tonic whether it be fever tree or Schweppes. Alternatively its sister gin, Wave, is a cocktail style gin that is more classic and dry with a twist of Ecklonia Seaweed used to add that dryness and hint of brine and salt. The Seaweed is even harvested from our south coast after storms when it washes up on the beach.
Each October we make our seasonal release of New Zealand Blood Orange Gin. They hand peel and juice every orange that goes into the gin to give it a beautiful bittersweet flavour.
You can visit Southward inside Heyday Brewery on Cuba Street and even have a flight of their in house gins which rotate seasonally.
They have now started production on Whiskey, but, don't expect it any time soon. A blend of unique casks and a love of whiskey is sure to fuel something truly special to the Wellington Region.