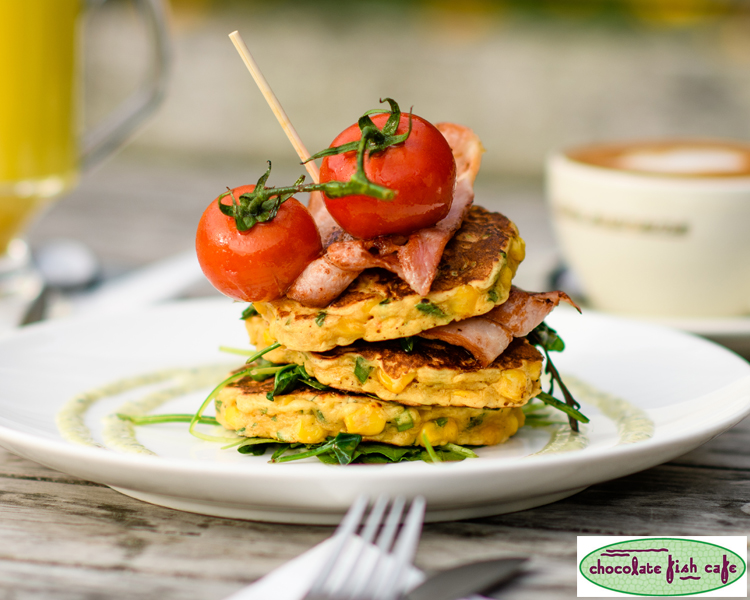 The Chocolate Fish Cafe Corn Fritters with Minted Yoghurt Sauce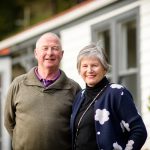 Recipe shared by John & Penny Pennington
for Moore Wilson's 2021 Calendar
The Chocolate Fish Cafe
Shelly Bay Road, Shelly Bay
www.chocolatefishcafe.co.nz/
INGREDIENTS
Corn Fritters
3 Eggs
¼ cup sweet chilli sauce (From Moore Wilsons, Exotic Food Sweet Chilli Sauce)
1 ½ tsp ground cumin
210g creamed corn
1 cup self raising flour
½ tsp salt
¼ tsp ground pepper
2 stalks spring onion, finely sliced
2 stalks coriander, finely chopped
500g frozen corn, thawed (can replace with fresh corn on the cob)
Minted Yoghurt Sauce
375g yoghurt, we use Cyclops Thick & Creamy Greek
¼ to ½ cup mint leaves, well packed
¼ to ½ cup coriander leaves, well packed
1 knob (20g) fresh ginger, grated
Zest and juice of 1 medium lemon
¼ cup sugar
Chilli flakes, to taste
INSTRUCTIONS
For the corn fritters place the eggs, chilli sauce, creamed corn, flour, spices, salt and pepper into a large bowl and mix together.
Add the corn kernels, spring onion and coriander and mix until just combined.
Heat a little oil or clarified butter in a frypan over a medium heat. Cook in batches, allowing about 3 tablespoons of batter per fritter. Cook until golden brown and cooked through, about 2-3 minutes on each side. Add oil in between batches as required.
For the yoghurt sauce blend all ingredients, except yoghurt, to make a paste. Gently fold this through the yoghurt (do not overmix or sauce will thin). Season to taste with salt and pepper.
Serves 4