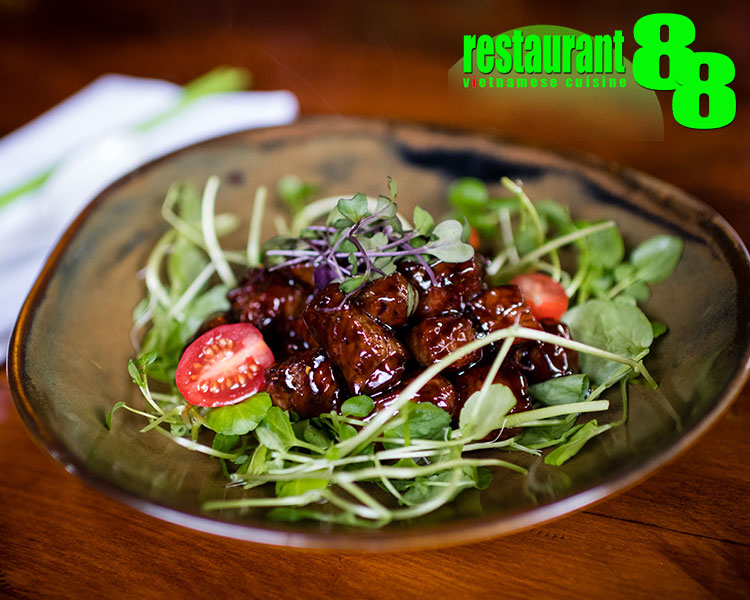 Restaurant 88's Bo Luc Lac

This Vietnamese Shaking Beef is favourite of 88's customers! Recipe kindly supplied by owners Luke and Linh Duong for Moore Wilson's 2019 calendar.
INGREDIENTS
300g beef sirloin steak, cut into 2cm cubes
2 garlic cloves, crushed
1 Tbsp vegetable oil
2 tsp brown sugar
¼ white or red onion, diced
Sauce
1 clove garlic, finely chopped
1 tsp light soy sauce
1 Tbsp Chinese cooking wine or dry sherry
1 tsp cracked black pepper
1 tsp brown sugar
1 Tbsp oyster sauce
1 tsp sesame oil
To serve
fresh watercress or lettuce
tomato
cucumber
INSTRUCTIONS
In a bowl, add all the sauce ingredients together and mix well. Set aside. The sauce can be made beforehand and kept in the fridge for up to two weeks.
Mix the cut beef, 1 crushed garlic clove, vegetable oil, and sugar together and leave to marinate for an hour or two.
Heat some oil in a wok with the remaining garlic.
When the oil is hot, add the chopped onions followed by beef cubes and shake the wok vigorously to make sure that they are well seared on all sides but still rare inside.
Pour the sauce over the meat and keep shaking the wok so that the sugar melts and caramelises, creating a glaze on the beef cubes. Served immediately on a bed of fresh watercress with sliced tomatoes and cucumber.
Serves 4.