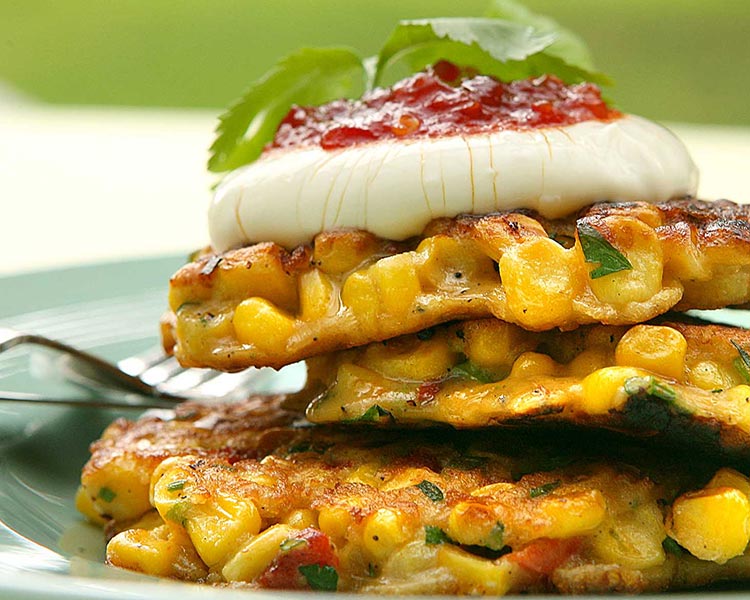 Ruth Pretty's Corn, Herb, & Roasted Red Pepper Fritters

Ruth Pretty's famous Tomato Chilli Jam is the perfect accompaniment to these summer sweetcorn fritters. Makes 10 fritters.
INGREDIENTS
½ cup flour
½ tsp baking powder
2 eggs, lightly beaten
¼ cup milk
400g fresh corn kernels, stripped off the cob and blanched
2 spring onions (white part and first section of green part chopped)
1 roasted red pepper, skinned and diced
1 Tbsp chopped coriander leaves
1 Tbsp chopped Italian parsley leaves
2-3 drops tabasco sauce
1 tsp flaky sea salt
½ tsp freshly ground black pepper
2-3 Tbsp olive oil
⅓ cup sour cream
3 Tbsp Ruth Pretty Tomato Chilli Jam
INSTRUCTIONS
Into a medium bowl sieve flour and baking powder and then add eggs and milk. Whisk till batter is smooth.
Add corn, spring onions, red pepper, coriander, parsley, Tabasco, salt and pepper. Stir to combine.
Pour half the oil into a large, heavy based frypan and over a medium heat, heat pan until hot.
Using a ¼ cup measure, scoop up fritter mix to fill the measure, drop into hot pan and spread to make an 8cm diameter fritter. Continue till pan is full. Cook each fritter for 2-3 minutes or till golden brown. Turn fritters over and cook on second side till golden brown and cooked through. Drain onto a tray lined with paper towels.
Add remainder of oil to frypan and repeat above until all the mixture is cooked. Serve hot with sour cream, Ruth Pretty Tomato Chilli Jam and a sprinkle of coriander leaves.