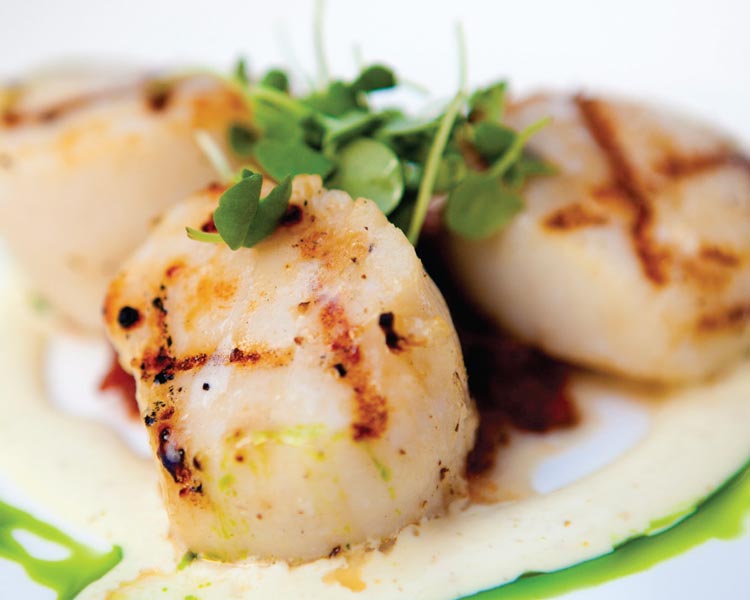 Scallops with a Citrus Marinade

New season fresh Whangamata Scallops available now from Moana NZ inside
Moore Wilson's Fresh! 
Try this simple marinade to bring out the delicate flavours of fresh NZ scallops.
Serves 3-4 as an entree.
INGREDIENTS
4 Tbsp melted butter
12 New Zealand Scallops, cut in half crossways
Parsley, chopped (to garnish)
1 cup water
1 Tbsp fresh lemon juice
¼ cup Chardonnay wine (or other dry white wine)
1 tsp honey
1 garlic clove, minced
¾ tsp cornflour, dissolved in water
1 Tbsp butter
INSTRUCTIONS
In a saucepan combine water, wine, lemon juice, butter, honey, and garlic. Cook over medium heat until reduced to half, stirring frequently. Add dissolved cornflour and stir until thickened. Remove from heat and keep warm.
BBQ or pan-fry scallops, basting them with butter for approximately 4 minutes, 2 minutes each side. Do not overcook. They are done when they turn opaque. Arrange on individual plates, pour the sauce over them then garnish with parsley and serve.
Recipe part of the Moore Wilson's Recipe Collection.