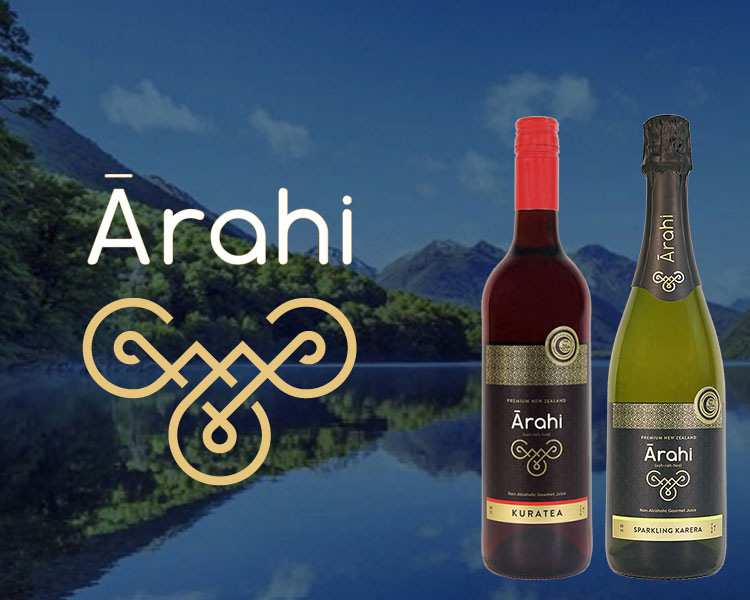 Ārahi Alcohol-Free Beverages

Non-Alcoholic Drinks with style and sophistication.
Ārahi is a unique new range of non-alcoholic drinks made to satisfy adult tastes and suit their social needs.
The idea came about when David Wilson, who describes himself as a 'bit of a foodie' and lover of good wine, met and began spending time with Jo-Anne Short, a non-drinker who didn't enjoy or need alcohol to socialise.
David began to notice that Jo-Anne was often offered an inferior experience than his when they visited restaurants or bars. David would have numerous options for wine, all served in fine stemware, while Jo-Anne would end up with fizzy drink or juice in a tumbler.
Jo-Anne became the inspiration for Ārahi when David decided to right what was wrong in the market. He drew on his many years of culinary experience to create a multitude of drinks they could share over dinner and when friends came to visit. The most challenging aspect was length of palate, a flavour journey from the nose to a lingering finish, just like a good wine.
With the help of a winemaker or two (including Hawkes Bay's Rod McDonald), David crafted the Ārahi range using the cold-pressed juice of super-premium wine grapes. Only the finest parcels of grapes were used which is one of the critical things that elevates Ārahi from the group of low-priced grape juices that are made from reconstituted table grapes. Also important was the blending process used to turn the super-sweet juice into a refreshing and multi-dimensional experience.
David, along with the winemakers and a food technologist, worked tirelessly to create a sophisticated and balanced drink. "It took months and many failed methodologies until I finally began to produce drinks that were worthy for us to enjoy together" says David, "I'll never forget the first night Jo-Anne and I had dinner together like two grown-ups, sharing a bottle of Sparkling Karera from an ice-bucket at the table".
Jo-Anne, who cofounded Ārahi with David, was influential in the naming, look and feel of the finished product – all of which reflects her Māori heritage.
Two Ārahi non-alcoholic beverages are available online and in store at Moore Wilson's Wine, Beer & Spirits:
Ārahi Sparkling Karera: When served chilled in an elegant flute this Sparkling Sauvignon Blanc delivers a premium experience that is bursting with flavour. This is a lively and special celebratory beverage that makes alcohol-free drinking a pleasure.
Light straw in colour with a fine and vibrant bead. The palate is long and racy with kiwifruit and apple. An off-dry style with a lingering finish.
Food pairing: shellfish, cheese, berries, pasta and seafood.
Ārahi Kuratea: Named after the Māori word for red, the colour of the rich Merlot grapes from which this gourmet beverage is made.
Floral on the nose with blackcurrant and vanilla on the palate. A beverage with nicely balanced sweetness and a dry, slightly tannic finish.
Food pairing: game meats, blue cheese, Asian dishes, beef, beetroot salad.