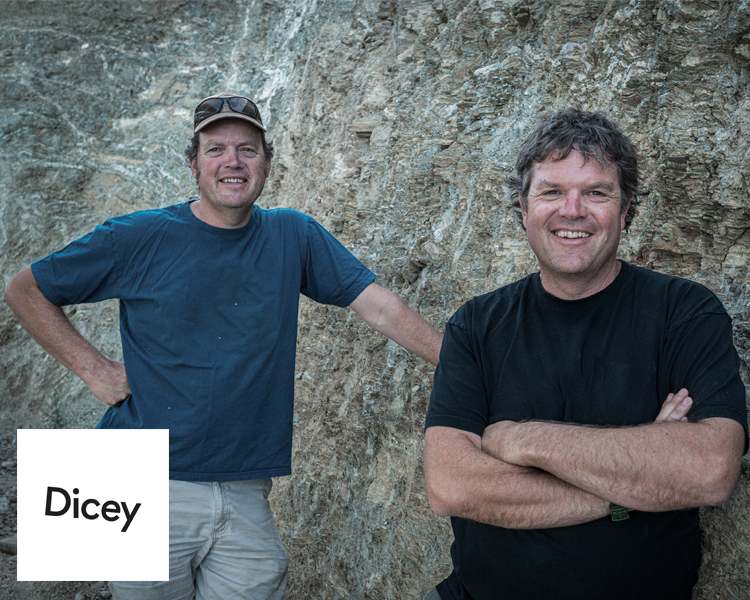 Dicey Wines was started by two brothers in Bannockburn, Central Otago. Bannockburn is not an easy place to grow vines, with the winds, frost, bitter cold & dry heat. The land is unforgiving, and the wines express that struggle.
The two brothers, James and Matt Dicey, have made sure the wines tell a story of the region at the time it was made, the colours on the bottles representing the seasons. The elements needed to craft a Dicey wine are the vineyards plus the heat, rain and wind. The amounts of these vary from year to year, so each year the wines tell a different story of the region. The grapes endure the fury of nature and then are harvested by hand.
Each vineyard is unique. They have three: Swansong, Black Rabbit and Inlet. Swansong is steep - the vines 'clawing their way along the terraces of eroded gravel and clay'. Black Rabbit sits on ancient bedrock with vines nestled into windblown soil. Inlet's vines drape over a terrace of deep river gravel.
The Dicey Pinot Noir has aromas of dark berry, savoury & floral. The Dicey Chenin Blanc has aromas of kumquat, stone fruit and floral. You can find both of these wines in our Wine Beer & Spirits stores and online.