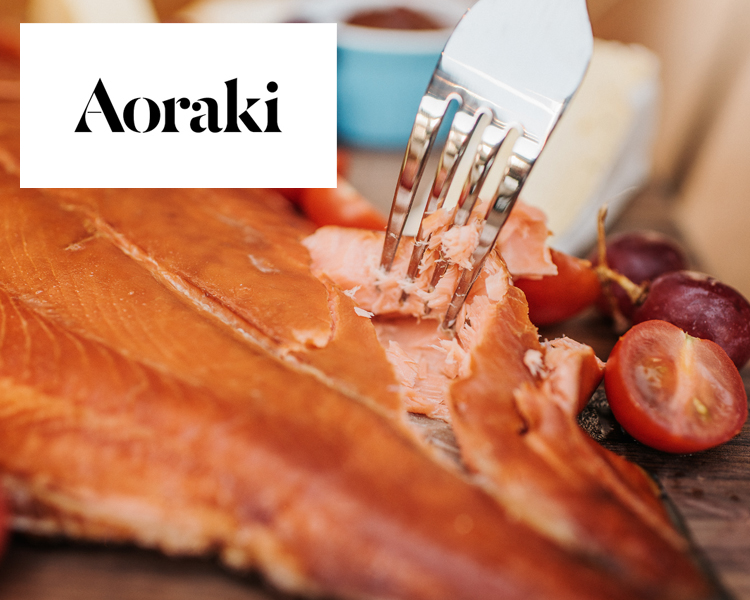 Aoraki Salmon
Their Freshwater King salmon thrive in the fast glacial flows that surround Aoraki, Mt Cook – New Zealand's highest mountain. This environment creates a fish with a light, clean taste and a delicate texture.
The remote and wild place in which they work challenges them to find new ways, solving problems to enhance the outcome.  From the breeding programmes at their hatcheries, to their farms and smokehouse, they patiently attend to every stage.  This allows them to provide traceability and ensure full health and welfare throughout.
At their smokehouse, they take their time to bring out the natural flavour of their salmon and not overpower it. Crafting a smoked salmon that is lighter, purer; a taste truly connected to our place.
Their farms meet the highest level of industry Best Practice standards. Their fish are fed a wholesome diet essentially made up of proteins, oils, grains and minerals. Their feed supplier has reduced reliance on wild caught fish to ensure they are not taking fish from our oceans to provide aquaculture feed.
They operate a hatchery located within the Issac Conservation Area, near Christchurch. The hatchery is spring fed from the Selwyn River flowing deep in the Canterbury alluvial aquifers. Our salmon are then grown in the glacier-fed waters of the hydro-canals in the Mackenzie Country, not far from Twizel.
You can find a range of Aoraki Salmon products from Moore Wilson's in the Fresh Market and Food Service department.