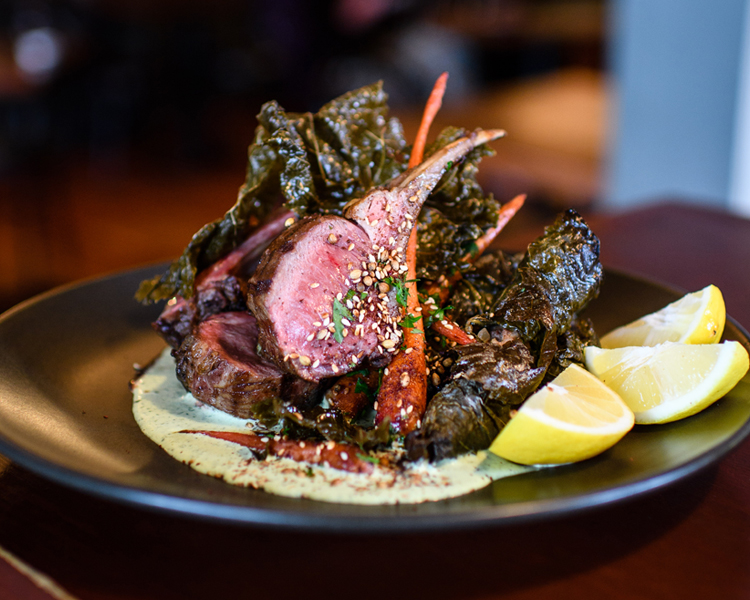 The Larder's Spring Lamb Rack with Minted Labne & Stuffed Vine Leaves

Recreate this beautiful spring dish from Jacob Brown and Sarah Bullock from The Larder in Miramar.
INGREDIENTS
8 lamb cutlets
1 Tbsp olive oil
salt and freshly ground black pepper
2 Tbsp Zatar
1 bunch baby carrots
2 lemons, to serve
Minted Labne
500g yoghurt
3 Tbsp chopped mint
3 Tbsp chopped parsley
½ tsp dried mint
pinch salt
Vine Leaves
1 jar vine leaves
150g medium grain rice
250g minced lamb
½ tsp allspice
¼ tsp salt
pinch pepper
rind of 1 lemon and juice
2 cloves garlic
400ml chicken stock
INSTRUCTIONS
To prepare the labne, hang yoghurt in a clean muslin and leave to drain overnight in the fridge. The next day, discard liquid and place all strained yoghurt and rest of labne ingredients in a blender and mix until it's a
nice pale green colour.
For the vine leaves, rinse leaves and pat dry. Wash rice and mix with lamb, spices, salt and pepper. Lay out vine leaves and place a spoonful of lamb stuffing across the base of the leaf. Roll leaves up into a neat sausage shape. Place the vine leaves into a heavy based casserole dish and add chicken stock and lemon juice. Place a plate on top to keep the leaves submerged. Bring to boil and simmer for around 1 hour.
Season lamb cutlets with salt and pepper and Zatar. Grill lamb cutlets on a hot BBQ or pan for approximately 3 minutes on each side or until medium rare.
To grill baby carrots, peel and brush with olive oil, season with salt and pepper and grill gently until just cooked. Serve the lamb cutlets with minted labne,
stuffed vine leaves, grilled carrots and lemon wedges.