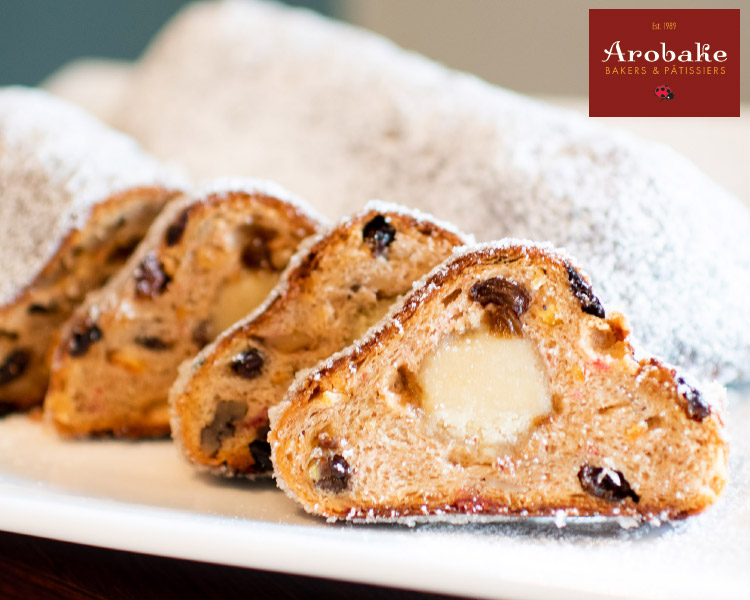 Arobake Weihnachts Stollen with Marzipan

Recipe kindly shared by Arobake owner Max Fuhrer. If you don't have time to make your own, Arobake's delicious stollen is available from Moore Wilson's Fresh along with their festive fruit mince pies!
INGREDIENTS
250g sultanas
180g mixed peel
75g glazed cherries
35g almond slithers
35g chopped walnuts
50ml rum
300g butter at room temperature
140ml milk
50ml egg
60g fresh yeast
560g flour
55g sugar
6g salt
4g all spice
400g marzipan
INSTRUCTIONS
Soak the fruit and nuts in the rum the day before.
Crumble the yeast into the milk and egg.
In a mixer with a dough hook, or by hand, add the dry ingredients together with 150g of butter and mix to a well developed dough.
Mix in remaining butter until smooth then gently mix in the soaked fruits and nuts.
Allow to ferment, covered, for 2 hours.
Weigh out four portions at 450g each, mould to logs and rest for 20 minutes.
Flatten each stollen log and lay in 100g logs of marzipan, fold in half.
Cover and rest for 20 minutes.
Bake at 190°C for 35 minutes.
While hot, brush with melted butter then dip into granulated sugar. Dust with icing sugar to serve.
Makes 4 x 550g logs.