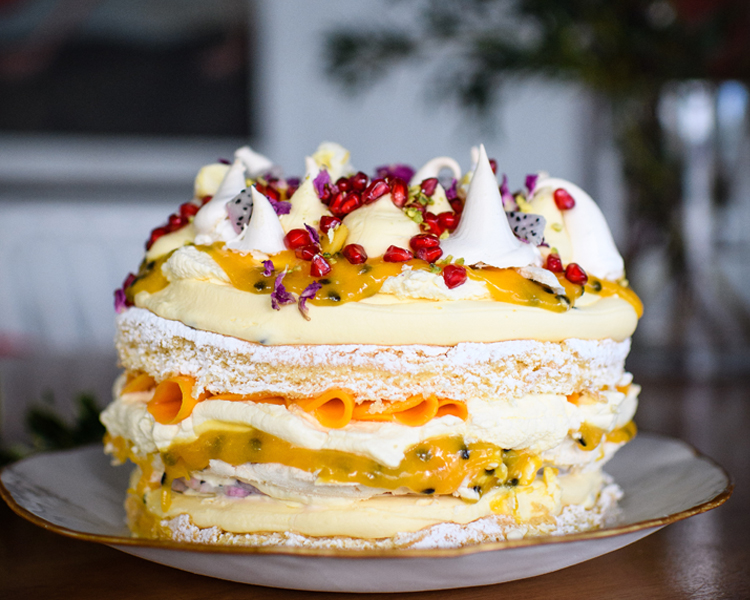 Tomboy's Tropical Trifle Cake

Create this stunning Tropical Trifle Cake with Kate Marinkovich from Tomboy Cakery.
INGREDIENTS
Meringue
200g caster sugar
100g egg whites
Sponge
3 eggs
½ cup caster sugar
½ cup plain flour
¼ cup cornflour
1 tsp custard powder
1 tsp baking powder
Passionfruit Curd
150g fresh or frozen passionfruit pulp
170g butter
200g caster sugar
1 Tbsp lemon juice
4 egg yolks
1½ cups mascarpone
1 cup cream
Fruit & Toppings
mango, thinly sliced
dragon fruit, thinly sliced
pomegranate arils
dried, edible rose petals
freeze dried pineapple
INSTRUCTIONS
Preheat oven to 200°C.
To make the meringue (can be done the night before), evenly spread the sugar on a baking paper lined tray. Bake for 10 minutes. In a clean bowl whisk the egg whites until just starting to go fluffy. Pour large spoonfuls of hot sugar into the whites, one after the other in quick succession. Whisk until shiny and thick. Turn the oven down to 100°C. Line two trays with baking paper.On one tray, make a circular disc with half the meringue mix. On the other, pipe meringue into little kisses. Bake for 1 hour. Once done turn the oven off and open the door slightly to allow to cool.
For the sponge, place the sugar and eggs in a bowl and whisk until thick and creamy. Sift in the remaining ingredients and gently fold through using a metal spoon. Pour into two lined 23cm cake tins and bake for 22-25 minutes or until the top springs back.
To make the curd combine the passionfruit, butter, sugar and lemon juice in a saucepan. Over a medium heat gently melt the ingredients together. There should be no granulated sugar left. In a separate bowl whisk the egg yolks until fluffy. Whilst constantly whisking, slowly pour the passionfruit mix into the eggs. Pour back into the saucepan and stir over a low heat until the mixture has thickened.
Once your curd has cooled, mix half through the mascarpone. Set aside. In a separate bowl, whip cream till soft peaks form.
To assemble, place one sponge on a plate. Spread with a little passionfruit curd then ½ of the mascarpone mix. Spread to the edges. Top with sliced dragon fruit. Place the meringue disc next then a little more curd. Top with whipped cream and sliced mango. Place the last sponge on top. Add the rest of the mascarpone and spread to edges. Spread the remaining whipped cream on top and then arrange the meringue kisses, rose petals, pomegranate arils, pineapple and small pieces of chopped mango and dragon fruit.