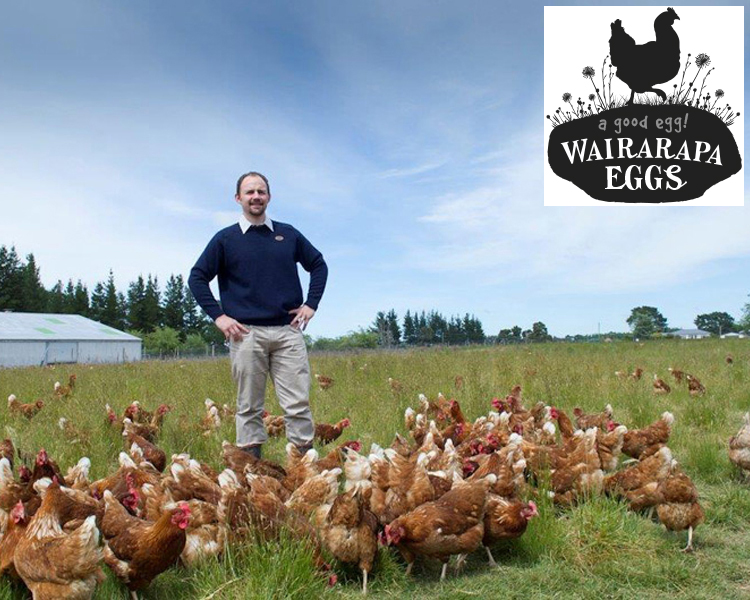 Wairarapa Free Range Eggs

Chris Martin knows a good egg when he sees it. Once head baker at Wairarapa's award-winning Ten O'clock Cookie café, Chris is now the region's largest farmer of Free Range eggs, Chris Martin and his wife Alexandra bought Wairarapa Eggs from Alexandra's father in 2011. He in turn had owned the business for close to 30 years.
Wairarapa Eggs provide their hens with the best of care and their Free Range birds have access to the outdoors 24 hours a day.
Wairarapa Eggs received a 'Good Egg Award' in 2011, one of only 7 recipients within the Farmer/producer section. The awards, presented for the first time in NZ by the SPCA and Compassion in World Farming, recognise food industry businesses that support animal welfare.
A family business, located just out of Masterton, Chris and the team take great pride in their product and in providing fantastic customer service. Despite being the region largest producer, you'll still see Chris out doing daily deliveries to keep up to date with customers' feedback, and to make sure they are providing the best in service and product
Chris and Alexandra have three children – 2 boys and a daughter and, you guessed it, eggs one way or the other feature in family meals most days.