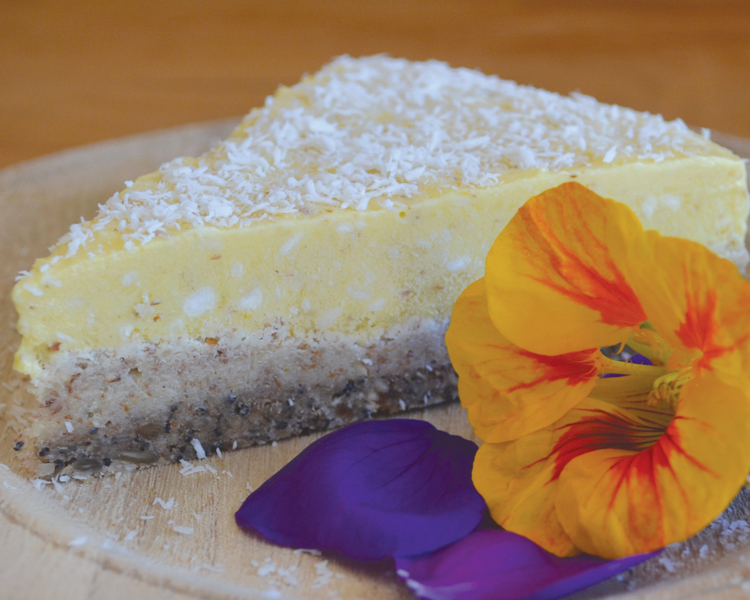 Raglan Coconut Yoghurt Mango and Coconut Raw Cake

INGREDIENTS
Base
1 cup of shredded coconut
1 cup sunflower seeds
⅓ cup poppy seeds
½ tsp ground cinnamon
Pinch of salt
7 dates, pitted and roughly chopped
2 Tbsp water
METHOD Blend all except dates and water in a blender or food processor. Add dates and water and blend again till you have a nice and sticky mass. Press mass into a spring-form cake tin. Once this is done, put the base in the fridge.
Filling
2 cups raw cashews or almonds
2 Tbsp raw honey
½ tsp vanilla paste
Pinch of salt
½ cup coconut oil, in liquid form
3 Tbsp water
METHOD Blend all except coconut oil and water in a blender or food processor, add water and coconut oil and blend again until it's all properly mixed. Pour over the base and spread
evenly. Once done, place the whole thing into the freezer.
Cream
Two fresh mangos
4–6 Tbsp Raglan Coconut Yoghurt
½ tsp vanilla paste
½ tsp LSA
Pinch of salt
1 Tbsp honey
METHOD Pop it all in the blender, mix until it's nice and creamy. Spread evenly over your cake and put it in the freezer for a couple of hours to set. Garnish with whatever takes your fancy and enjoy!