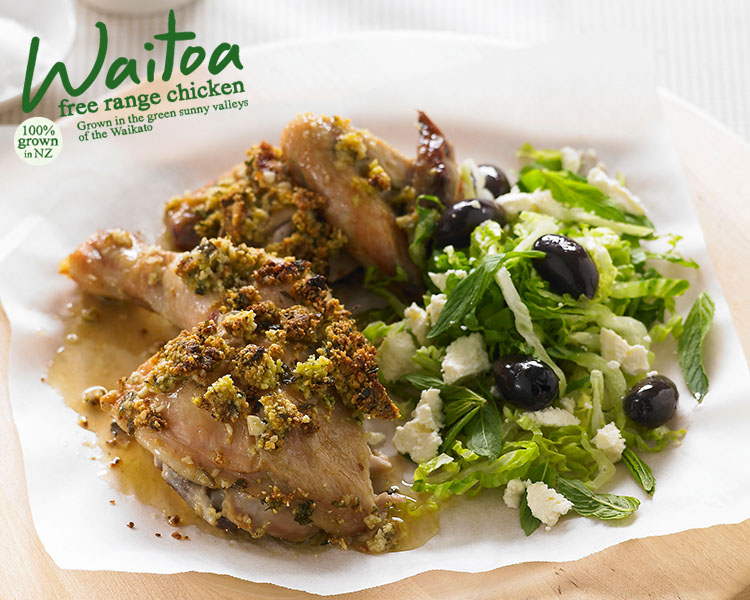 Waitoa Greek Style Butterflied Chicken & Salad

INGREDIENTS
Waitoa Free Range Butterflied Chicken
100g whole blanched almonds
1 bunch parsley leaves, leaves removed (around ¾ cup)
3 garlic cloves
1 Tbsp olive oil
1 lemon, finely grated rind and juiced
Sea salt flakes and freshly ground black pepper
1 baby cos lettuce, finely shredded
1 cup mint leaves
100g feta, crumbled
1 cup pitted black olives
2 Tbsp extra virgin olive oil
INSTRUCTIONS
Preheat oven to 200°C. Line a shallow roasting pan or baking tray with baking paper. Place chicken into prepared baking pan.
Put almonds, ½ cup parsley leaves and garlic into a food processor and pulse until finely chopped. Transfer to a bowl. Add oil, lemon rind and 2 tbsp lemon juice.
Stir until combined. Press mixture onto skin of chicken. Sprinkle with sea salt flakes and freshly ground black pepper. Place a sheet of foil loosely over chicken. Roast for 35 minutes.
Roughly chop ¼ cup of parsley leaves and set aside. Remove foil and roast chicken for a further 15-20 minutes or until chicken is cooked through when tested in the thickest part with a skewer. If juices run pink, cook for a little longer.
Transfer chicken to a chopping board. Stand for 10 minutes. Cut chicken into portions and place onto a serving platter. Sprinkle with chopped parsley and serve with lemon wedges and salad on the side.
For the salad: Combine lettuce, mint leaves and remaining parsley leaves in a bowl. Transfer to a serving platter. Sprinkle over feta and olives. Drizzle with extra virgin olive oil. Season with salt and freshly ground black pepper.
TIPS
In Summer, cook your chicken on the BBQ! Start it skin-side-up on the hot plate over a medium-high heat. Ensure chicken is cooked properly by using an internal temperature thermometer. Chicken should have an internal temperature of at least 74° C before you stop cooking it.
Cook the butterflied chicken for around 30 mins over medium-high heat, or until it's reached 50-55° C. Turn the heat up to high, flip it skin-side-down over the hotter side of the grill, and cook until crisp and cooked through (74° C). Rest, carve, and serve.
Enjoy with a refreshing summer Rosé.