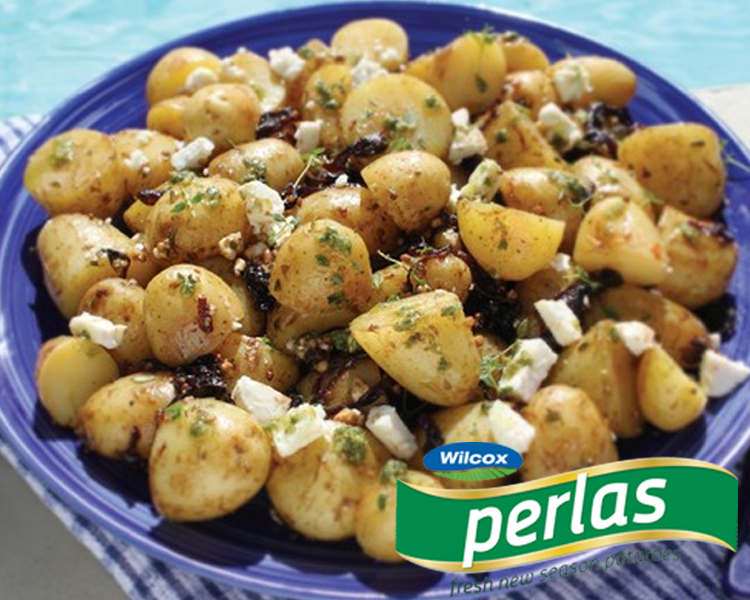 Wilcox Perlas Potato Salad with Caramelised Onion and Feta

This tasty twist on a potato salad will have you coming back for more!
Serves 4-6 as a side dish or salad.
INGREDIENTS
700g Perlas Baby Potatoes
1/4 cup Balsamic caramelised onion (store bought or make your own)
4 Tbsp Pesto
100g Feta cheese
2 Tbsp Whole grain mustard

For the balsamic caramelised onions:
2x Onions, sliced (or red onions if you prefer)
Pinch Salt and freshly ground black pepper
1/4 cup Good quality balsamic vinegar
2 Tbsp Brown sugar
1 Tbsp Thyme, minced
Drizzle Extra virgin olive oil
INSTRUCTIONS
Gently boil the Perlas potatoes for approximately 20 minutes in slightly salted water until tender. Cool. Add the rest of the ingredients and mix carefully. Serve.
For the balsamic caramelised onion (ingredients above):
You can purchase caramelised onions ready-made from Moore Wilson's Fresh. If you're making them yourself, here's how!
Heat a sauté pan large enough to hold all of the onions with a bit of olive oil over medium heat. Add the onions and sauté until they just begin to colour, tossing frequently. Add the balsamic vinegar and brown sugar and stir or toss to combine. Cover, reduce the heat, and let cook for about 30-35 minutes, or until the onions have cooked down and caramelized deeply. Add the thyme and toss to combine.
Once made and kept in a sterilized jar in the fridge the onions will keep for a good long while to use in other recipes.