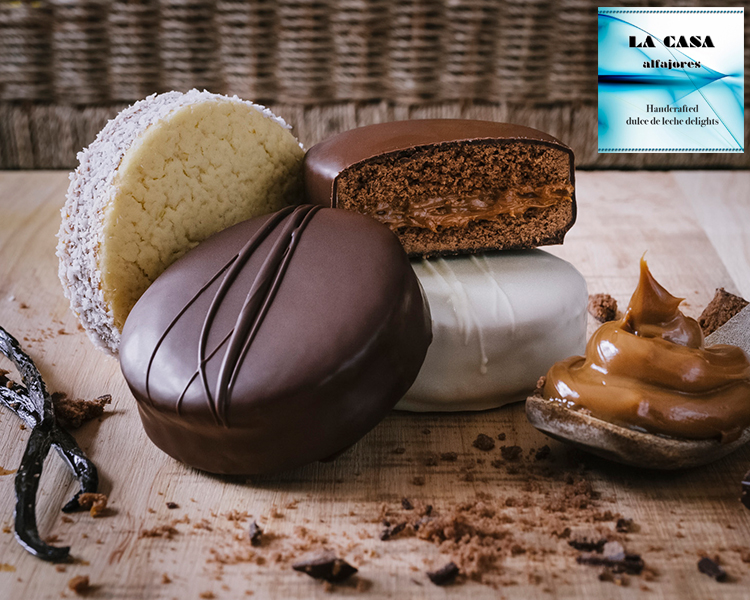 Alfajores: A Traditional Argentinian Treat

Traditional Argentinian alfajores handmade in Wellington.
Alfajores are sweet treats that have been present since colonial times all over Latin America. Each country has a different way of preparing them, but the concept is the same: two cookies filled with some kind of caramel.
A twist on the ancient Arab dessert, alajú, Alfajores became popular in the mid-19th century in Argentina. Alfajores are considered somewhat of a national treasure in Argentina with over 900 million units being consumed each year.
Dulce de leche is the most popular filling for alfajores in Argentina.  It is a confection prepared by boiling large quantities of vanilla-flavoured milk and sugar until they almost disappear. In Argentina this thick caramel is eaten with a spoon, spread on bread or biscuits, used to fill cakes, biscuits and fritters or dolloped onto other desserts.
People eat them walking down the street and waiting for the bus. You might get a mini-alfajor,
the size of a golf ball, served with your coffee. Pastry shops display their alfajores in front
windows.
New to Moore Wilson's Fresh are La Casa Handcrafted Alfajores, made in Wellington in small batches with love and dedication. All the ingredients used except for the chocolate sourced locally. No additives and/or preservatives are used. Two flavours are available:
ALFAJORES DE CHOCOLATE (Marplatense style) These alfajores consist in two delicate cocoa biscuits (cake-like cookies) sandwiched together by a thick layer of dulce de leche, a creamy caramel confection made from milk and sugar and hand dipped entirely in dark or white chocolate. The dough is made with European style butter, fresh eggs with hints of fresh orange and a touch of rum as a background flavor. They also contain wheat and flavored with honey.
ALFAJORES DE MAIZENA "Maizena" is a traditional brand of cornstarch and a household name in Argentina. Maizena--corn starch--is used along with flour to give the biscuits a texture that is lighter than a typical shortbread cookie. Two of these biscuits are sandwiched with dulce de leche filling and rolled in coconut.That lightness still captures the cookie's buttery flavor, and together with dulce de leche, they will melt in your mouth. The dough is made with European style butter, fresh eggs with hints of fresh lemon zest and a touch of Cognac as a background flavor.
3 pack boxes of Maizena, Dark Chocolate and Mixed White & Dark Chocolate La Casa Alfajores are in store now at Moore Wilson's Fresh Market.