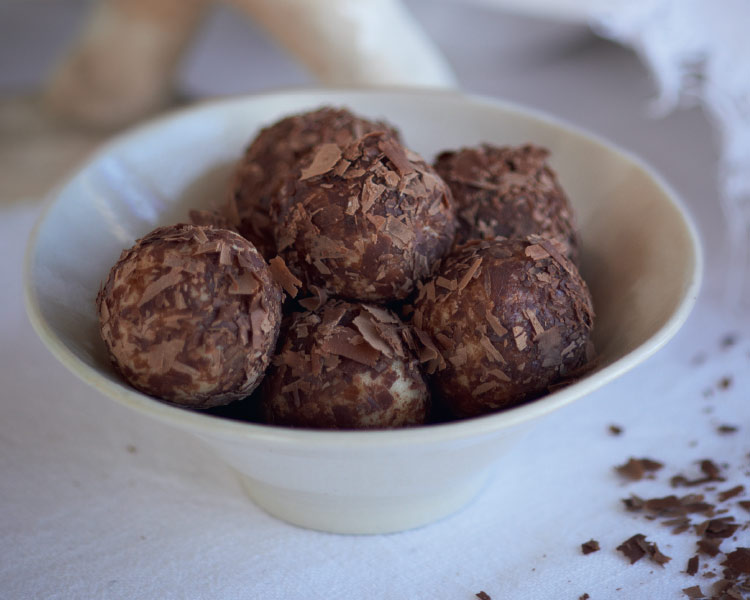 Whittaker's Tiramisu Truffles

Deliciously decadent with a hint of hazelnut, these adults-only truffles make a wonderful homemade Easter gift. Makes 20 truffles.
INGREDIENTS
280g Whittaker's White Chocolate, chopped
1 tsp instant espresso coffee granules
2½ tsp Frangelico liqueur (or marsala, amaretto or other)
½ cup mascarpone
125g Whittaker's Creamy Milk Chocolate
1 tsp cocoa powder
INSTRUCTIONS
Melt the white chocolate in the top of a double boiler until smooth. Remove from the heat and cool slightly, until lukewarm.
While the chocolate is melting, grind the coffee granules in a mortar and pestle, until fine. Dissolve half of this in the liqueur and reserve the rest.
When the white chocolate has cooled (but should still be nice and smooth), whisk in the mascarpone until smooth, then the espresso liqueur mixture. Mix in the
remaining ground espresso, cover the bowl and place in the refrigerator overnight.
The next day, grate the milk chocolate into shavings, and toss with the cocoa.
Take the tiramisu ganache out of the refrigerator, and roll into small bowls. Roll the balls in the chocolate shavings, then place in mini cupcake cases and refrigerate until serving.
Recipe by Chocolate Lover Charlotte Bell. Featured in Whittaker's A Passion For
Chocolate, 2nd Edition.