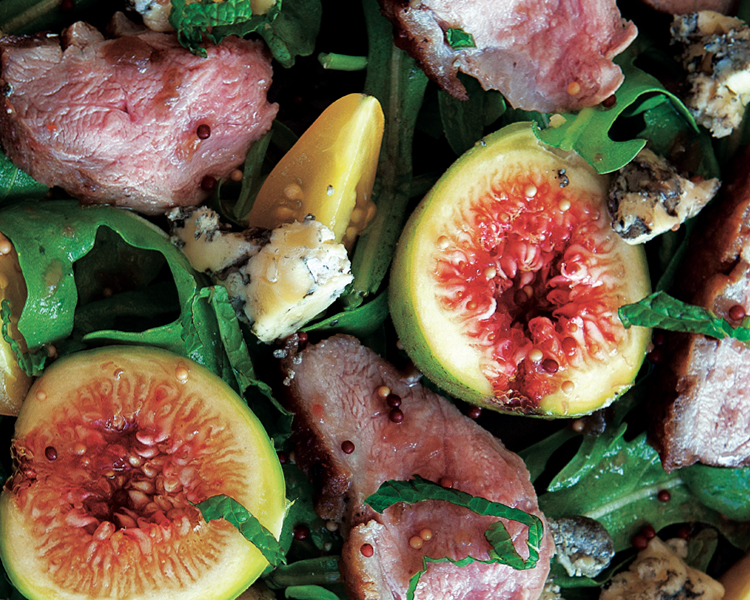 Saveur Duck & Fig Salad

Savour this salad with a deep dark, brooding Shiraz or Tannat. Serves 4.
INGREDIENTS
2 Saveur Duck Breasts
1 tsp fennel seeds
Salt and pepper
2 cups baby rocket leaves
6 fresh ripe figs (or other in season fleshy fruit)
50g creamy blue cheese
4-5 cherry tomatoes
1 lemon, zest and juice
3 Tbsp grape seed oil*
1 tsp Dijon mustard*
Small bunch of fresh mint, thinly sliced
*can be replaced with 4 Tbsp Taihiki Orchards fresh fig vinaigrette.
INSTRUCTIONS
Trim any excess fat from the duck breasts, and score the skin in a small diagonal pattern. Scatter the surface of the duck with the fennel seeds, and some salt and black pepper. Place the duck breasts, skin side down in a cold frying pan and place over a heated element. Allow the pan to come to a medium temperature and the duck will slowly render down a lot of the fat.
Fry gently on the skin side for about 10-12 minutes until the skin is crisp and golden brown.
Flip the breasts over and cook on the meaty side for 2-3 minutes. Remove and allow the duck to rest on paper towels. It can be served warm or at room temperature.
Meanwhile prepare the salad. Wash and dry the rocket leaves. Cut the figs in half. Cut each tomato into quarters. Crumble the blue cheese and grate the lemon zest onto a small plate.
Make the dressing by blending the juice of the lemon, oil and mustard, seasoning with salt and pepper to make it tangy.
To assemble the salad, arrange the rocket leaves on a serving platter. Slice the duck breasts thinly and arrange with the figs and tomatoes on the leaves. Scatter over the blue cheese and tip the dressing over the salad sparingly. Finally top the dish with the sliced mint and lemon zest.
Recipe by Lauraine Jacobs.
Image - Elizabeth Clarkson.