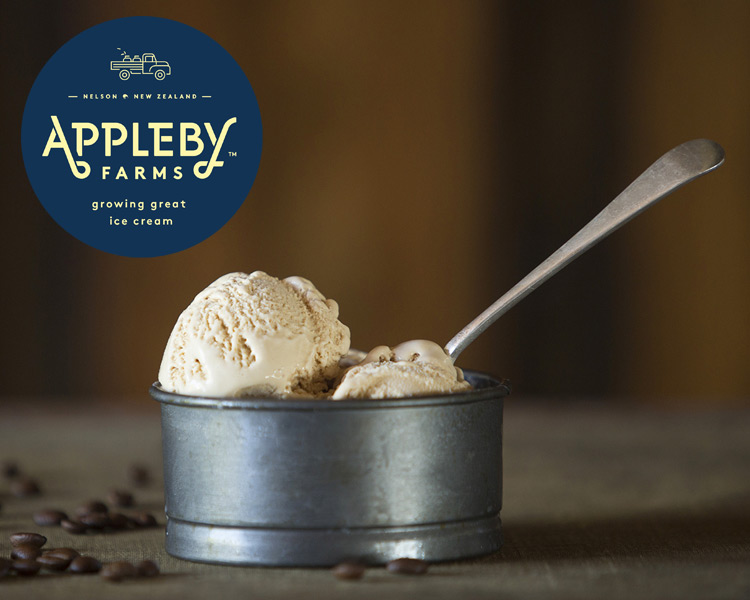 Applebly Farms A2 Ice Cream

Appleby Farms is a small collective of farmers who love ice cream and keeping it local. The farmers teamed up with an ice cream alchemist with the goal of creating the most taste-bombing ice cream the world has ever licked.
These days, Appleby Farms creates luxurious experiences for Kiwi of ice cream lovers. Friends down the road help by supplying wonderful ingredients like ripe, plump boysenberries, freshly roasted coffee and craft chocolate.
But more than that, they vowed to take the utmost care of the land, the cows and their people, by planting native trees, using water wisely, and supporting their neighbours.
The A2 Difference
Whether a particular cow produces A1 or A2 is significant because certain amino acids influence the breakdown of food. When A1 beta-casein is broken down in the body, a protein fragment called 'beta-casomorphin-7' (BCM7) is created. BCM7 is thought to lead to a number of human ailments. It has, for example, been linked to Type 1 diabetes, heart disease, Sudden Infant Death Syndrome and autism. While the link between BCM7 and these diseases is still controversial, it has been suggested that people with a susceptibility to certain diseases should avoid milk containing the Histidine amino acid (A1 or normal milk).
In A2 milk products, the troublesome amino acid Histidine in the protein is replaced by the amino acid Proline, and is broken down by the body differently so that no BCM7 is produced.
Milk intolerance is a different issue and caused by the inability to digest lactose leading to symptoms such as bloating and cramps. Consumers with milk intolerance have reported an increased ability to tolerate A2 milk products. This could be because of the absence of BCM7 which specifically causes intolerance in some people.
Appleby Farms herds are 100% A2 and that is not that common (there is a long conversion lead time to develop an A2 herd ~10+ years).
Appleby Farms is a classic NZ pasture to plate story. No other ice cream manufacturer in this Category can say they own the paddocks, the cows, drive our milk to the creamery, craft it with care, and deliver this direct to market.
Appleby Farms have produced some of the creamiest, most delicious ice creams we've had the pleasure of tasting with the added bonus of being more stomach-friendly for a lot of people than regular A1 cow milk ice cream.
The first three flavours available in our Tory Street and Porirua Fresh Markets:
Bedford Vanilla Bean Vanilla Ice Cream
Doubleshot Ipanema Coffee Ice Cream
Bad Boys and Berries Boysenberry Ice Cream
Coming soon:
Brown Eyed Girl Chocolate Brownie Ice Cream