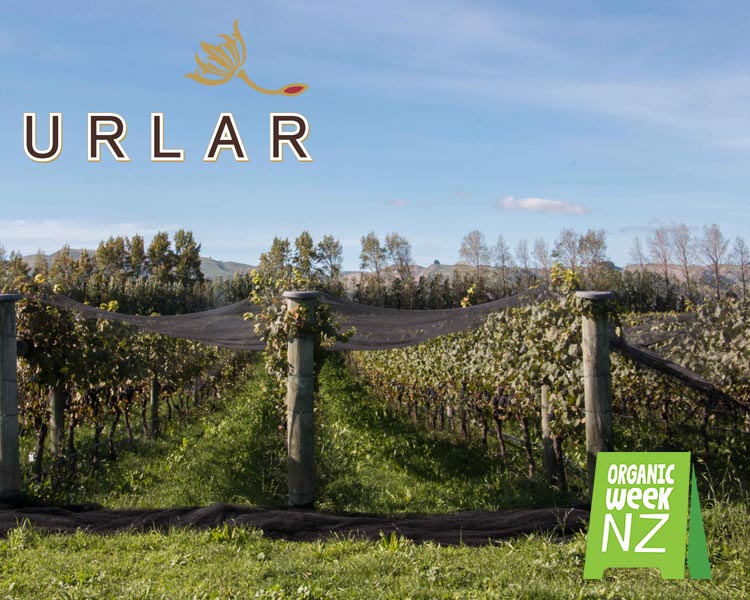 Urlar Estate Organic Wines

With Scottish roots deep in farming and the art of whiskey distilling, Angus and Davina have always had a passion for the land and the beauty of what can be produced when it is nurtured. After falling for New Zealand, they moved their passion to Gladstone, Wairarapa, and here began Urlar.
The first vines were planted at the estate in 2004, and now with 94,000, Urlar produce over 15,000 cases per year when in full production.
Urlar began the process of organic certification and started using biodynamic practices in 2007. They became fully BioGro certified in 2010.
Organic and biodynamic practices are about giving back to the soil and managing the vineyard as a balanced sustainable farming unit. This includes organic practices such as recycling through composts, liquid manures and increasing plant biodiversity. Using the biodynamic farming and gardening calendar, the rhythmic influences of the sun, moon, planets and stars are recognised and worked where possible.
Angus and Davina sincerely believe in a sense of place. The soil, the climate, the people and their passion. By giving back to the soil, enhancing the environment they occupy and leaving it in better shape, Urlar has become a place for the long term and for future generations.
Their passion is to produce handcrafted, elegant wines with a purity of flavour that is achieved through integrity. In every glass, Urlar invites you to taste a sense of their place.
Urlar wines available through moorewilsons.online:
Urlar Sauvignon Blanc The excellent 2016 vintage delivers subtle aromas of white florals, fresh herbs and stone fruits. The palate is full and rich with varietal flavours of gooseberry, tropical and stone fruits. An elegant and restrained Sauvignon Blanc with subtle richness balanced with a lovely minerality. Wonderfully suited to herb marinated white meat dishes or freshly shucked oysters.
Urlar Pinot Gris An opulent dry styled wine with aromas of sweet pear, honeysuckle and stonefruit overlaying a generous mouth feel of great weight and depth. The creamy texture on the palate from the lees stirring provides the backbone to a long and lingering finish. An elegant wine with a beautiful balance that will reward cellaring up to five years. Great with pork dishes, especially a slow roasted pork belly or Asian cuisine that is lightly spiced.
Urlar Riesling In homage to its stony origins, this dry styled riesling has an underlying mineral thread throughout. Aromas include lime zest, granny smith apples and citrus which combine beautifully with a rich palate texture. A tight mineral thread runs the length of the palate making it delicious to drink now although cellaring for five years or more will be richly rewarded. It stands up well to lightly spiced tapas, Asian food and handles strong cheeses well.
Urlar Pinot Noir An elegant wine of dark red berry fruits, dried herbs, lifted red florals and subtle savoury notes. The fruit is complexed by layers of whole bunch nuances, undergrowth, spices and earthy cedar. Elegantly concentrated with fine tannins and a silky texture. Beautifully suited to a rack of lamb or gamey dishes such as venison or duck.