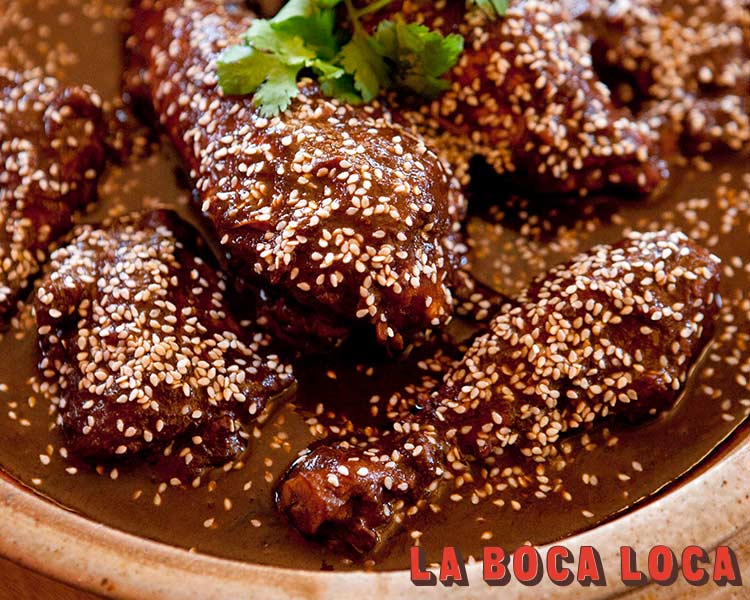 La Boca Loca's Chicken Mole

This dish is guaranteed to impress your dinner guests and it's much simpler than it seems. Combining the bitterness of chocolate, the richness of pecans, the savour of spices, and the heat of árbol, pasilla, ancho and negro chillies, Mole con Pollo is a real flavour explosion. Balanced by a simple base — the classic choice is chicken — served with beans and rice on the side, it is the kind of dish your friends will beg you to make over and over.
Recipe by Lucas Putman and Marianne Elliott from La Boca Loca, as featured in the Moore Wilson's Recipe Collection.
INGREDIENTS
For the mole:
5 dried árbol chillies
50g dried pasilla or ancho chillies
50g dried negro chillies
vegetable oil for the pan
30g pecans
30g raisins
sesame seeds for sprinkling
1 wheat flour tortilla, 25cm
1 small brown onion, sliced
500ml chicken or vegetable stock
125g Mexican chocolate (alternatively use dark chocolate with added cinnamon to taste)
salt and freshly ground black pepper
piloncillo or brown sugar
For the chicken:
1.6kg chicken pieces, bone-in (about 1kg boneless)
1L mole
1L chicken stock, plus more as needed
100g sesame seeds, toasted
INSTRUCTIONS
First, prepare the mole. Preheat oven to 150°C. Clean dried chillies, removing seeds, stalks and ribs. Sauté in a little oil for 8 to 10 seconds. The chillies will redden; be careful not to burn them. Remove from heat and drain on paper towels. When cool enough to handle, break into pieces.
Separately toast pecans, raisins, sesame seeds and tortilla in a baking pan in oven until they begin to brown a little. Occasionally shake the pan so as not to burn them. Once evenly toasted, break tortilla into small pieces. Heat a little oil in a pot, add onion and sauté for about 3 minutes. Add pecans, raisins, tortilla bits and chillies. Cook all together for another 2 minutes.
Add stock; heat without bringing to a boil. Add Mexican chocolate and keep cooking until mixture simmers (but still do not allow to boil) and chocolate is all dissolved. Remove from heat and blend in a blender or food processor until very smooth.
Return mole to pot, bring to a simmer. Simmer for 10 minutes, stirring constantly. Add salt, pepper and piloncillo to taste.
To put the dish together. Preheat oven to 220°C. Pour mole over the chicken and toss around in sauce to coat pieces well. Place chicken in a roasting pan.
Add chicken stock and roast for 45 to 60 minutes, until chicken is cooked through. Add more stock, if needed, to keep moist.
Remove from oven, and sprinkle with sesame seeds. Serve with rice, beans and tortillas to mop up yummy juices.