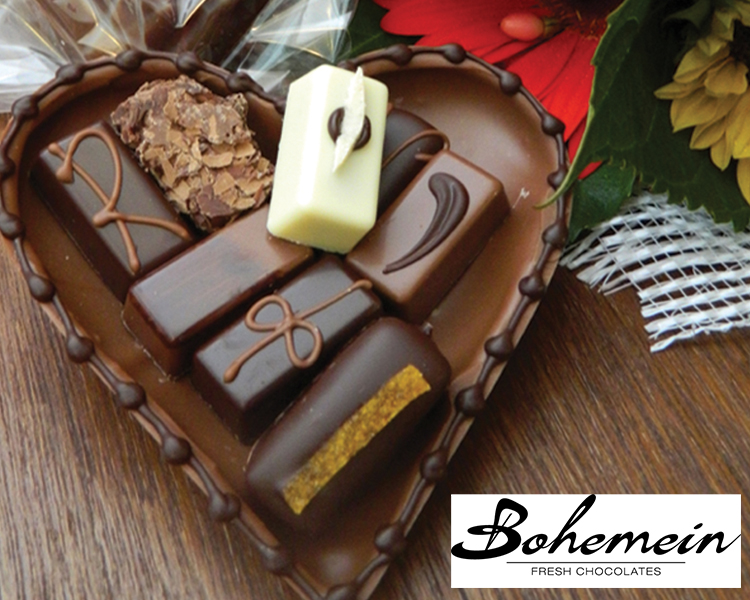 Bohemein Fresh Chocolates

Like most children, Jiri (George) Havlik, developed a love of chocolate at a young age. Originally from the Czech Republic, he took his passion a step further, training and working as a pastry chef in his homeland. George moved to New Zealand and fulfilled a lifelong dream, opening Bohemein Fresh Chocolates in Wellington in 2005.
In 2015 Bohemein opened a store in central Auckland, their first outside of the Wellington region.
Head Chocolatier George's aim is to bring the high standard of European chocolate craftsmanship and quality to New Zealand. His vision being that tasting his chocolate will evoke memories of strolling off the boulevards of Brussels, Paris or Prague for his Kiwi customers.
At Bohemein's Miramar workshop, only fresh, high-quality ingredients are used to craft world class chocolates. When you taste strawberries in Bohemein chocolates, you're tasting real fresh strawberries. When you taste hazelnuts, they are real hazelnuts.
Because Bohemein Fresh Chocolates are free of artificial preservatives, they have a shorter than some other chocolate brands (lasting for up to 4 weeks).
Bohemein have won two prestigious Cuisine Artisan Awards – in 2012 for their Sea Salt Caramels and again in 2014 when their Black Devils (a chewy caramel chocolate with roasted cocoa nib) were runner-up to the overall winner.
Some of the more than a dozen flavours available from Moore Wilson's Fresh College Street and Porirua include Rosemary & Apricot Ganache, Chilli Ganache, Amaretto Truffle, Maple Cream and Noisette (Hazelnut). These chocolate are sold loose and can also be made up into 6, 12 or 24 gift packs with all your favourite combinations.
Another popular Bohemein treat is the Vanilla Marshmallow Dark Chocolate Fish – a real gourmet treat available year round.
Bohemein also supply Moore Wilson's Fresh with a selection of novelty chocolates for special occasions throughout the year including Valentine's Day, Easter, Mother's Day and Christmas.