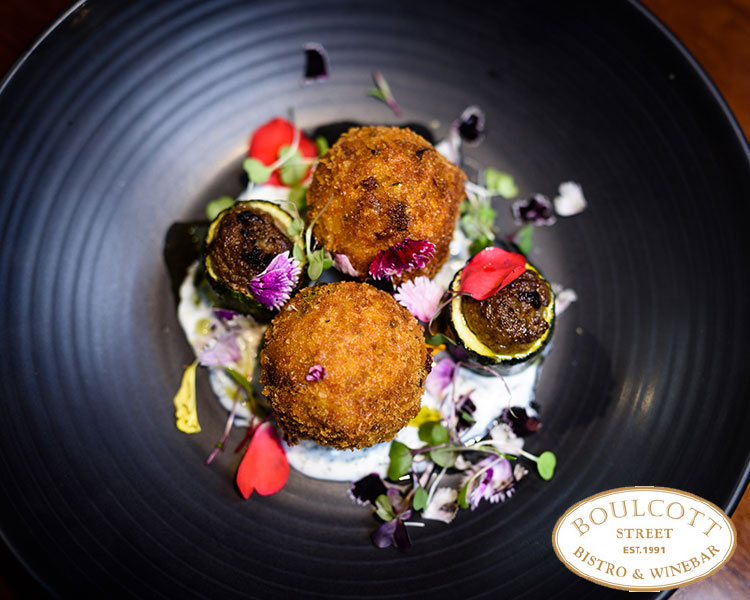 Boulcott St Bistro's Saffron Arancini

Golden and crispy on the outside, gooey mozzarella on the inside - what's not to love! Boulcott St. Bistro Head Chef, Rex Morgan, transforms his arancini balls from a street side snack to fine dining experience by pairing with minted yoghurt dressing and mushroom duxelle (recipes for these accompaniments included in the Moore Wilson's Recipe Collection).
INGREDIENTS
800ml vegetable stock
250g arborio rice
½ tsp salt
very generous pinch of saffron
50g parmesan, grated
150g firm mozzarella, chopped into
small cubes
plain flour for dusting
1 or 2 eggs beaten
500g dried panko breadcrumbs
INSTRUCTIONS
Bring the stock to the boil in a medium pan, then tip in the rice, salt and saffron.
Bring back up to the boil, then turn down the heat and simmer on a medium heat
until the stock has been absorbed. Stir in the grated parmesan and season to taste. Leave to cool completely, preferably in the fridge – you can spread it out on a tray to cool faster if necessary.
Stir the mozzarella into the cool rice and check the seasoning.
Divide mix into 8, 12 or 16 balls. Roll between wet palms to form a ball of your chosen size.
Place flour, eggs and bread crumbs in separate bowls. Roll each ball in the flour, then egg and then crumbs. Place on a tray, keep in fridge if not using immediately.
Heat canola oil in a deep pan (no more than a third full) or deep fryer, to 170⁰C, or until a breadcrumb sizzles on contact.
Cook in batches until golden brown, making sure the oil comes back up to temperature between batches, and drain on kitchen towel. Sprinkle with a little salt while still warm and serve hot or cold.
Can also be served with a simple tomato chutney or arrabiata sauce.
Recipe supplied by Boulcott St. Bistro Head Chef, Rex Morgan.