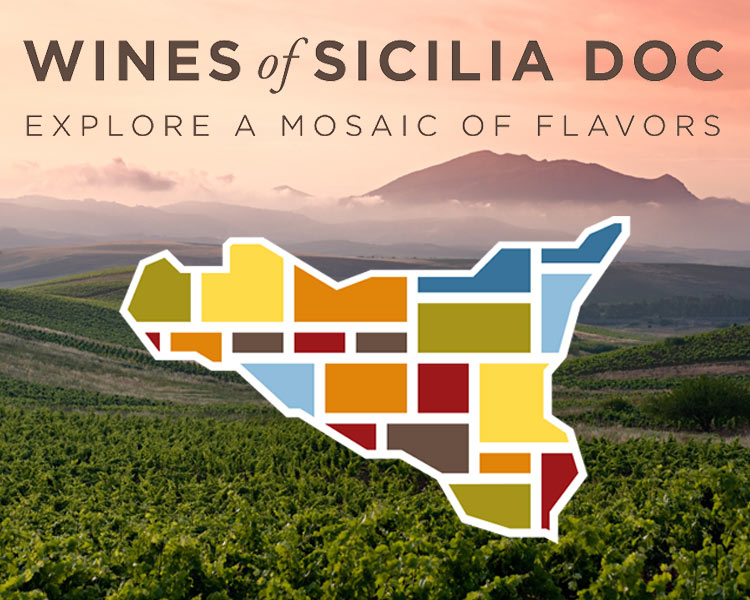 Try Something Different: The Wines of Sicily

Sitting just at the end of Italy's boot, Sicily is the largest island in the Mediterranean, and is one of Europe's oldest viticultural regions. The island has more vineyards, and more indigenous grape varieties than any other region of Italy.
With its volcanic soils and warm climate, Sicily has long been renowned for its red wines especially. Sicilians have an amazing number of local grape varieties to work with, including the famed Nero d'Avola, Nerelo Mascalese, Frappato, and Nerello Cappuccio, to name but a few, though common international varieties such as Cabernet Sauvignon, Syrah/Shiraz and even Chardonnay are increasingly being planted in Sicily.
NERO D'AVOLA – SICILY'S ICONIC RED GRAPE
If this grape isn't on your radar, it should be! Named after the city of Avola in the far South of Sicily, this grape excels in the warm conditions, with the ability to soak up plenty of sunshine and produce powerful fruit-lead wines with added complexity of pepper and spice character. As a result, it is often called Sicily's Shiraz, and with the influx of international grape varieties, many Nero d'Avola/Shiraz blends can be found on the market, the two grapes complimenting each other well.
Mont'Albano Nero D'Avola 'Terre Siciliane'
Full bodied, rich wine with smooth tannins. Delicious plum and earthy blackberry flavours.
There are very few plantings of Nero d'Avola overseas, but with its ability to cope so well with hot dry conditions, there are experimental plantings in South Africa, and Australia. We have an excellent example from up-and-coming South Australian winery Unico Zelo who specialise in producing wines from
Italian varieties.
Unico Zelo 'The River' Nero d'Avola 
Proudly from some of the most ancient soils on this earth - The Riverland, a complete underdog region that epitomizes what it is to craft fine wine on the edge. Rich red earth, sandy soils covering limestone. A succulent, juicy, aromatic and supremely refreshing wine.
Don't just take our word for it, the ancient winemaking traditions of Sicily are back on-trend! NZ Chef Ben Bayly and Auckland Restaurateur Michael Dearth (The Grove, Baduzzi) visited the island last year and selected a number of wines for their tables, including the estate of Tasca in Regaleali…
Tasca "Guanaccio" Perricone 
Perricone (or Guanaccio) is one of Sicily's lesser-known indigenous grapes, and we're delighted to have this powerful example on our shelves. Ripe and fruit-forward with thick extraction and rich spiced texture. Perfect with steak or lamb.
SICILIAN NATURAL WINES
Sicily has been instrumental in the resurgence of 'traditional' winemaking techniques in recent years, with Natural wines made in Roman era clay amphorae becoming found as far afield as New Zealand –Pyramid Valley winemaker Mike Weersing ferments some of his in these large clay vessels "wines from the clay have more umami character and complex aromatics."
COS Frappato 
This now-legendary natural wine producer was formed in 1980 when three school friends Giambattista Cilia, Giusto Occhipinti and Pinuccia Strano started experimenting with grapes from their families' vineyards. The entry to their range, this straight Frappato is light and plush but with so much intensity, complexity and style it is full of cherry and raspberry fruit, herbal and floral notes, and sappy tannins.
Occhipinti SP68 Terre Siciliane Nero d'Avola Frappato
Arianna Occhipinti says that her love for wine was sparked when at the age of 16 she went with her uncle (Giusto Occhipinti of COS) to huge wine trade fair Vinitaly. Probably the most well-known of her wines, the SP68 red is purple/red in the glass showing aromas of wild cherries, plum and mulberry with just a touch of raspberry lift. There are hints of flowers, leather, smoke, spice and herbs with wafts of liquorice, earth and mandarin rind. In the mouth the initial attack of fruit is awash with wild cherry sheathed in tobacco leaf with supporting fruit flavours of dark plum and blackberry.
Shop online for delivery nationwide, or visit us in store to see our full range of Sicilian wines!