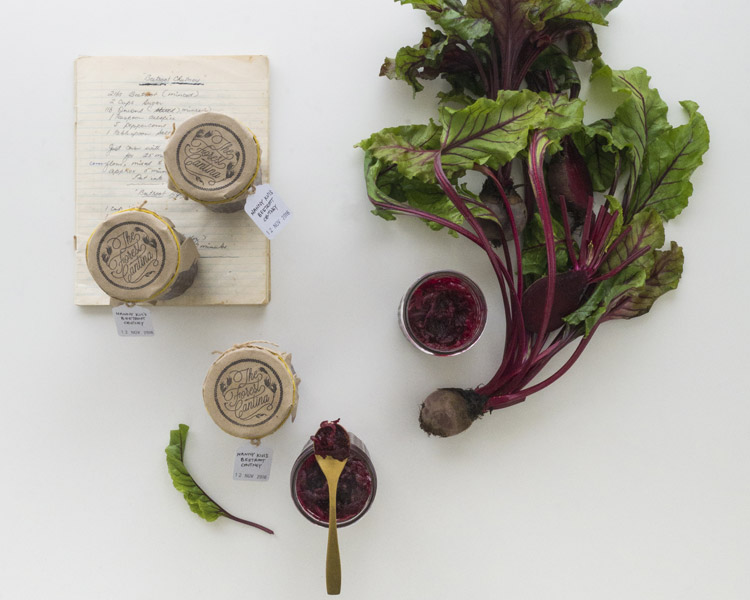 Nana Kui's Beetroot Chutney

This recipe features in Unna Burch's new cookbook The Forest Cantina HOME. It is originally from her Nana Kui's handwritten cookbook, and at her tangi (funeral) it was one of the things her grandchildren talked about her making.
Unna has samples of this chutney at her recent book signing at Moore Wilson's Fresh and it is simply delicious! A wonderful addition to eat with cold meats and cheese. Would also make a great homemade gift.
INGREDIENTS
Time: 15-20 minutes preparation | 30 minutes cooking
Serves: Makes 5x 340g (12oz) jars
900g (2 lbs) beetroot (approximately 4-5 medium)
3 granny smith apples
500g (1 lb) onions (4 medium)
2 cups fair trade sugar
2¼ cups white vinegar
1 tablespoon salt
1 teaspoon all spice
½ teaspoon black pepper
2 tablespoons cornflour
2 tablespoons cold water
INSTRUCTIONS
Wearing gloves (if you do not want to stain your hands), peel and then grate the beetroot and add to a large preserving pot. Next grate the apples (skin on) and slice the onions in half and then cut into thin half moon slices. Add these to the pot with the sugar, vinegar, salt, all spice and pepper. Cook over a medium/high heat, stirring until the sugar dissolves.
Reduce the heat to medium and simmer for 25-30 minutes, stirring occasionally so it doesn't catch on the bottom (during this time you can sterilise your jars).
Combine the cornflour and water together and add this to the chutney to thicken it. Cook for a further 5 minutes. Remove and ladle chutney into hot jars.
The Forest Cantina HOME $48 is available in store and online now!