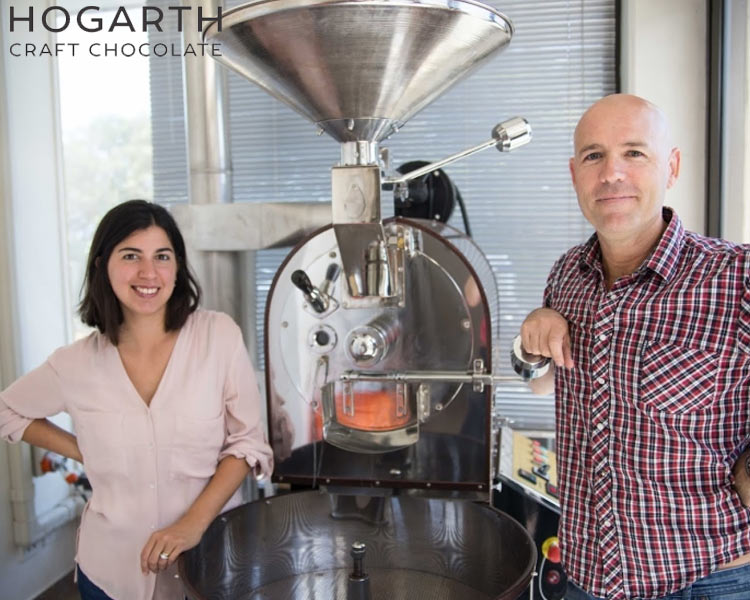 Hogarth Craft Chocolate

Award-winning craft chocolate from Nelson!
When Nelson fisherman Karl Hogarth left for his OE to Southern and Central America he never imagined he'd be coming back with a career-changing passion for chocolate (and a new wife but that's a different story!)
It was tasting 'real' chocolate in Guatemala that spurred said change in career for Karl from catching fish to crafting fine chocolate.
Once back in Nelson, hard graft ensued as Karl studied and practiced his new art until his dream of producing his own quality bean-to-bar chocolate was realised.
Karl, along with wife Marina, source the highest quality cacao beans from around the world to create small batches of chocolate using traditional techniques. Their small factory in Nelson, New Zealand is where they sort, roast, crush and classify, winnow, grind and conche, age, melt, temper, mold, and wrap by hand.
The Hogarth's search for exceptional cacao has lead them to the jungles of South America, the tropical islands of the Caribbean and sun drenched valleys of Northern Madagascar.
Each origin is carefully evaluated to see which combination of roast, conch and sweetness will bring to life the bean's true nature, to create a chocolate that is a reflection of its origin.
Hogarth's dark chocolate is made using only three ingredients: Cacao, Pure Cane Sugar and Pure Cocoa Butter.
2017 Awards
Acadamy of Chocolate, London: 
Gold -  Gianduia Hazelnut
Silver - Gran Blanco and Acul du Nord
Chocolate Awards, Asia-Pacific Region:
Gold - Gianduia, Peru, Milk Hazelnut Logs
Plus a special Chocolate Maker award.
Hogarth products available from Moore Wilson's Fresh:
Gianduia, Dark Hazelnut Chocolate
Combining 30% locally grown hazelnuts with cacao from Puerto Cabello – Venezuela. Gianduia is a soft hazelnut chocolate, smooth and velvety due to the hazelnut oil lowering the melting temperature of the chocolate. The resulting experience is a silken mouth feel and lingering roasted hazelnut flavour.
Peru, Gran Blanco 66%
Made with organic and Fairtrade Criollo cacao from the Norandino Cooperative of Piura, Peru. This chocolate exhibits stone fruit (apricot) notes and honey/caramel sweetness. A perfect pairing for sweet dessert wine.
Madagascar, Akesson Estate 70%
Organic 70% Madagascar cacao is sourced directly from the Akesson Estate in the Sambirano Valley. This chocolate has starts with bright berry acidity which melts into warm raisin notes.
Dominican Republic, Conacado 75%
Made with organic and Fairtrade beans sourced from the Conacado cooperative, a democratically-run co-operative organisation. The darkest of the range, with a strong chocolate flavour enhanced by citrus and dark toffee notes. Rich, strong and dark, a perfect accompaniment for Pinot Noir.
Fiji, Matasawalevu 73%
Made from Amelonado cacao grown on Vanua Levu, Fiji. The beautiful Matasawlevu farm is nestled on the foothills overlooking the Dreketi river. Cacao is bought directly from the grower to make a 73% dark chocolate using only cacao, sugar and cocoa butter. The bar has a strong chocolate base with notes of dried tropical fruit.
Drinking Chocolate
A powdered version of delicious Hogarth Chocolate. Simply add it to hot milk and whisk for a smooth and creamy hot chocolate drink. For variation add a little chili, or vanilla or honey. This is pure chocolate, not a mixture of powders like supermarket "chocolate" drinks, it can be melted down again and used in recipes which call for good quality chocolate.