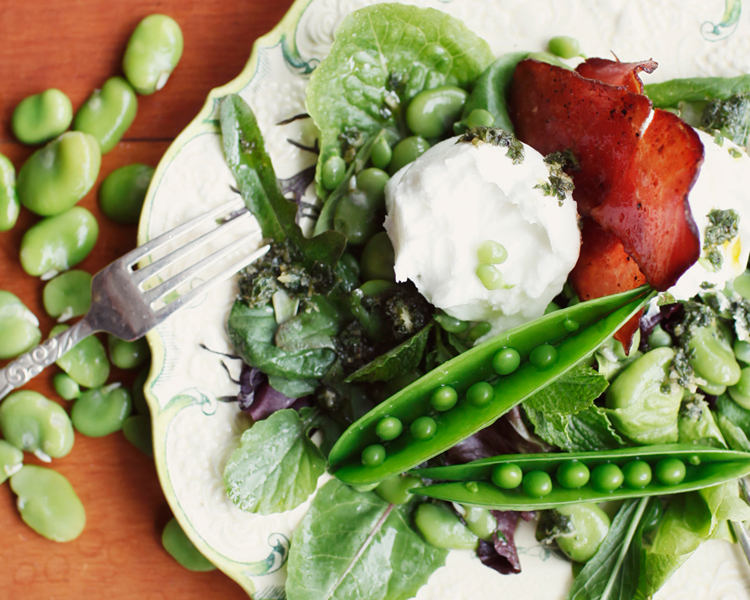 The Clevedon Valley Buffalo Co. Bocconcini & Broad Bean Salad

Serves 4.
INGREDIENTS
500g podded fresh broad beans (about 1kg in the pod) or 500g frozen broad beans
Small bunch mint, stems removed
Fresh salad leaves
Sea salt and freshly ground black pepper
75ml extra virgin olive oil
8 slices prosciutto
6 balls The Clevedon Valley Buffalo Co. Buffalo Bocconcini (approx 300g)
Finely grated zest and juice of 1 lemon
8 garden peas in the pod (if you have them)
INSTRUCTIONS
Bring a pot of well-salted water to the boil. Add the broad beans, wait until the water returns to the boil, then cook for a further 20 seconds only (if using frozen boil for 1-2 minutes or until just tender). Drain and quickly refresh in cold water. Drain, then peel off the broad beans' greyish-green outer skin. Set aside.
Finely chop the mint leaves, saving a few leaves for garnish. Put the chopped mint into a bowl with the olive oil , two-thirds of the lemon zest and the lemon juice, mix then allow to infuse for 10 minutes.
Season the broad beans with salt and pepper, drizzle with a little of the mint-infused oil and toss to mix. Arrange salad leaves on individual plates, then pile the broad beans on top. Tear the bocconcini in half and arrange three halves and two slices of prosciutto on each plate with the pea pods. Spoon over the dressing, sprinkle with the rest of the lemon zest and scatter over a few torn mint leaves to garnish. Season with salt and pepper.
TIPS
Serve with toasted slices of crusty bread.