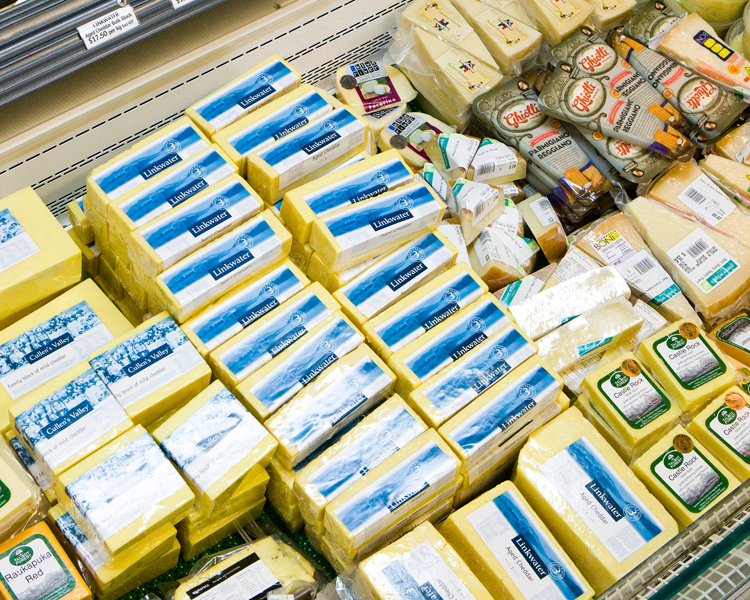 Linkwater: The Cheddar We Age Ourselves

When Moore Wilson Fresh first opened in 1998, we were able to source delightful aged cheddar from the Koromiko Dairy Company in Marlborough.
Regrettably, as the Dairy industry rationalised and merged itself in search of global efficiencies, it was decided to close the Marlborough factory and send the Marlborough milk elsewhere. It was also decided that the aging of cheddar would be undertaken in a larger more efficient location. So it was bye bye to Moore Wilson's favourite aged cheddar as it was absorbed into NZ's centralised (but efficiently processed) cheddar mountain.
We spent some time searching the country to find a similar aged cheddar and quickly discovered that aging a decent volume of cheddar beyond 2 years wasn't on anyone's agenda.
Now anyone who knows cheese will tell you that good cheddar, like fine wine, simply gets better with age. The flavours sharpen and become more intense. Sometimes lactic crystals form in the cheddar adding a delightfully crunch to the texture.
As a result, we decided to age some cheddar ourselves.
This fine quality cheddar is aged for at least 30 months and has a distinctive character and sharpness. The cheddar is named Linkwater after one the earliest NZ's cheese factories that was located in Marlborough. In the old days cheese produced at Linkwater used to be shipped by scow to Wellington from the Grove Arm Wharf - before being on-shipped to the UK. We also chose to use a Marlborough name to honour the Marlborough cheddar that first showed us what good aging can do for flavour.
In 2013 we released another cut and wrapped cheddar called Cullen's Valley.
Cullen's Valley is a quality mild cheddar, the ideal family cheddar with a mildness that all the family will love, especially the kids.
The name Cullen's Valley comes from Marlborough and the Cullen family were early suppliers to the Linkwater Dairy factory, one of NZ's first dairy factories.
Linkwater & Cullen's Valley Cheddars are available from all Moore Wilson's Grocery & Fresh Stores in retail and bulk 1kg+ sizes.