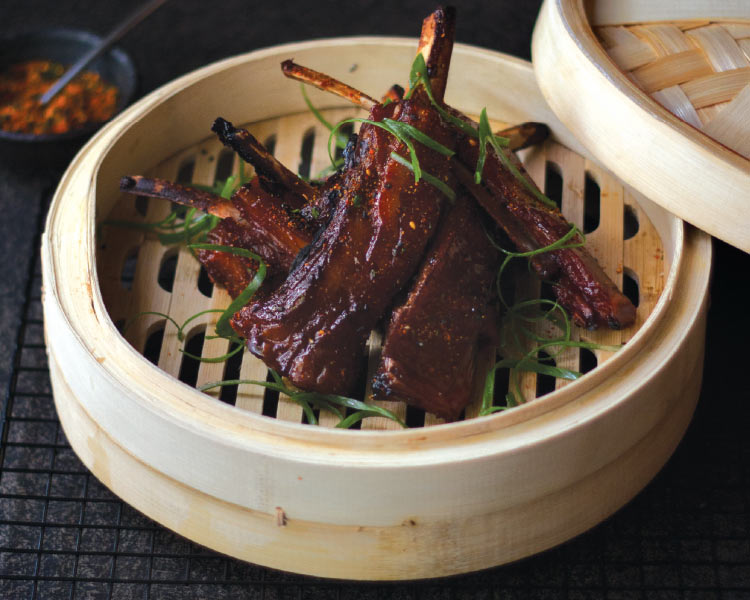 Dragonfly Char Siu Lamb Ribs

This dish uses a classic Cantonese marinade, char siu. Its simplistic translation means 'fork/roast'. Char siu typically has a distinctive red glaze and is a combination of sweet, savoury and sticky. Serves 4, generously.
INGREDIENTS
4kg lamb ribs, fat cap intact
60g ginger, finely chopped
60g garlic, finely chopped
150g brown sugar
70ml honey
140g hoisin sauce
100g oyster sauce
200ml dark soy sauce
20g Chinese five spice
20ml dark roasted sesame oil
100g red fermented bean curd
2 spring onion greens, sliced, to garnish
INSTRUCTIONS
Line a large roasting tray with baking paper and lay out the lamb ribs. Vigorously rub the garlic and ginger into the ribs.
In a pot combine the remaining ingredients (except the spring onions) and heat until you dissolve the sugar. Pour ⅔ of the marinade over the ribs, rub the marinade in and around the ribs until they are thoroughly coated.
Leave the ribs to marinate for a minimum of 2 hours or ideally overnight.
Heat the oven to 200°C and cook the ribs until they begin to darken, approximately 20 minutes. Lower the heat to 150°C and generously brush the ribs with the remaining marinade. Cover with foil and cook for another 60-90 minutes.
The ribs are ready when the rib bones are clearly becoming exposed and meat is
beginning to fall away from the bone.
Remove from heat and allow to rest for 10-20 minutes. Spoon over any remaining marinade in the roasting tray.
To serve the lamb ribs, either leave them whole or separate them. They can be portioned onto four plates or served from a platter in the middle of the table. Garnish with the sliced spring onion greens.
Recipe featured in 'Chef Collection' Series 4 of the Moore Wilson's Recipe Collection.