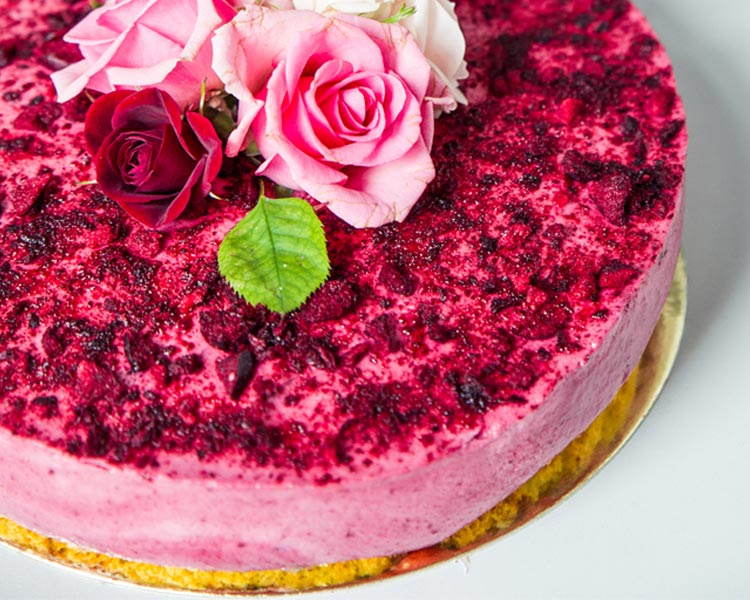 Tomboy Mousse Cake

Tangy sweet berry mousse perfectly paired with a simple sponge base, this cake will go down a treat at any festive celebration.
INGREDIENTS
Sponge cake base:
3 free range eggs
½ cup caster sugar
½ cup plain flour
¼ cup cornflour
1 tsp baking powder
Mousse:
50g frozen boysenberries
½ cup caster sugar
7g gelatine
3 free range egg whites
130g caster sugar
280ml cream, whipped
INSTRUCTIONS
For the sponge cake, pre-heat oven to 160°C and line a 22cm tin.
Beat eggs and sugar until tripled in volume. Sift dry ingredients three time then add to egg mix. Fold in very gently. Pour into lined tin and bake for 15 minutes or until sponge is golden, well risen and springs back when lightly touched. Set aside to cool.
For the mousse topping, on a low heat combine the berries and ½ cup sugar. Once sugar has dissolved, bring to the boil for five minutes.
Set aside to cool slightly then pulse in a blender and strain through a sieve. Discard seeds.
Combine gelatine with ¼ cup berry mixture and stir together. Once gelatine has
dissolved stir the mix back into the remaining berry mixture.
Whip egg whites and gradually add the sugar until dissolved - you want firm peaks. Gently fold ¼ of the berry mixture into the egg whites. Fold in remaining mixture. Fold through whipped cream. Pour over the sponge.
Place in the fridge and allow to set for a minimum of 2 hours. Cover with freeze dried berries and edible flowers. Decorate with roses or other flowers if desired. Serve straight from the fridge.
Recipe by Kate Marinkovich - Tomboy
Photographer: Louise Hatton