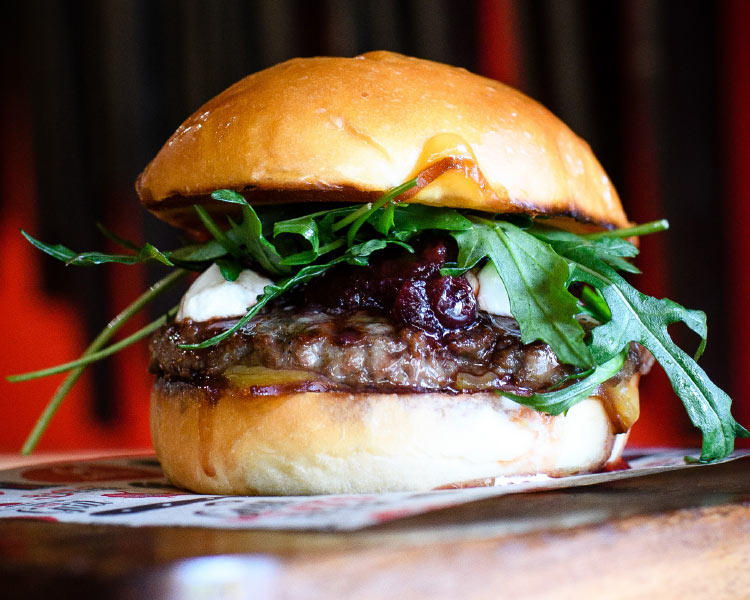 Grill Meats Beer Venison Burger with Smoked Ricotta & Tamarillo Chutney

Bring Burger Wellington to your home kitchen with this succulent venison burger by Chef Shaun Clouston from Grill Meats Beer.
INGREDIENTS
Tamarillo Chutney (makes approx. 1.2kg)
6 large tamarillos - blanched and refreshed to remove skins
600g frozen red currants
400g brown sugar
250ml malt vinegar
½ Tbsp salt
1 Granny Smith apple, peeled and diced
1 small onion, finely diced
½ tsp smoked paprika
1½ tsp mixed spice
Smoked Ricotta Cream
100g Zany Zeus smoked ricotta
100g sour cream
salt to taste
For the Burger
600g minced venison or quality beef mince
4 Pandoro milk buns - halved
A few Tbsp tamarillo chutney
1 recipe smoked ricotta cream
2 handfuls of wild rocket
8 slices smoked cheddar
INSTRUCTIONS
First prepare the chutney (this can be done months in advance!) Roughly dice the tamarillos and combine with all ingredients, place into a heavy based, non-reactive pot. Bring to the boil, stirring often. Then reduce the heat and gently simmer for one hour, stirring occasionally. Place the hot chutney into sterilised jars and seal.
For the smoked ricotta cream, combine all ingredients, taste for seasoning and store in the fridge until needed.
To prepare the burgers, season the mince with salt & pepper, then form into 4 even burger patties. Cook the burger patties in a hot skillet or griddle and keep warm.
Toast the halves of the burger buns under the grill. Once toasted add a slice of smoked cheddar to each bun. Return to the grill and melt the cheese.
Place a burger pattie on each bun base, spread the ricotta cream on this. Follow with the tamarillo chutney, wild rocket and top with the bun. Serve and enjoy!