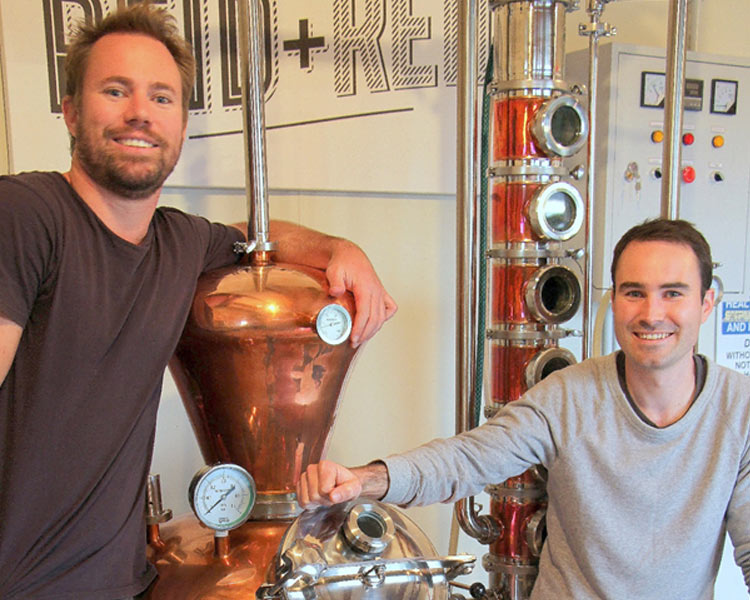 Reid+Reid

When Reid+Reid co-founders, brothers Chris and Stew Reid took a trip through Scotland in 2013, they were somewhat enthralled by the thriving craft distilling market. This appreciation turned into a business idea a few drams later (as is so often the case with budding ginsmiths), when the duo decided it was time to take some of that buzz back to New Zealand.
Of course – up in Scotland they were supping on whisky, but gin stood out to them as something that could excite their fellow Kiwis. "What we love about gin is its versatility: as far as spirits go, gin can lend itself to a wide range of styles, and it manages a good balance between traditional and modern. This gives rise to plenty of opportunity to experiment, which we find exciting," Stew explained. "And we're both big gin drinkers, so we knew we'd have at least two customers."
The idea didn't come to much of anything until Chris returned to New Zealand in 2014, wherein he began working on distillery premises. While this was happening – and from opposite sides of the world – the brothers began to work on the recipe for Reid+Reid Gin, exchanging and trialling recipes created on small home stills.  With their backgrounds in engineering and wine making, Stew and Chris set up Reid+Reid to challenge the perception of a 'classic' gin and promote New Zealand's unique natural flora. The result: Reid+Reid, New Zealand native gin.
Reid Brothers Distilling is located on the Reid family vineyard in Martinborough. Chris' wine making background played a huge part in shaping the flavour of Reid+Reid Gin: "The concept of a product with a 'sense of place' is ingrained in his outlook, and we've sought to apply this in creating a uniquely Kiwi gin. We felt we could offer the world something different by releasing a gin that not only uses, but highlights, native New Zealand botanicals."
The very first batch of Reid+Reid Native was released in late 2015 with the pair adding a Martinborough Pinot Noir Barrel Aged version in in late 2017. Reid + Reid can be found around the world from Australia to the UK and Japan.
You can find these Reid+Reid products in store and online at moorewilsons.co.nz
Reid & Reid Native NZ Gin
Reid+Reid gin is uniquely Kiwi, in that it is produced with three native New Zealand botanicals: kawakawa, manuka and horopito.

Reid & Reid Barrel Aged NZ Gin
Reid + Reid Barrel Aged Gin combines two great aspects of the Wairarapa: native bush and pinot noir.

Reid & Reid Dry NZ Vermouth
Reid+Reid Dry Vermouth features 13 botanicals including; wormwood, coriander, manuka, kawakawa, horopito, orange, lemon thyme, cassia, juniper, nutmeg, fennel, angelica root and liquorice root.

Reid & Reid Red New Zealand Vermouth
Made with 100% whole bunch Martinborough Pinot Noir & aged for 12 months in French oak barrels.