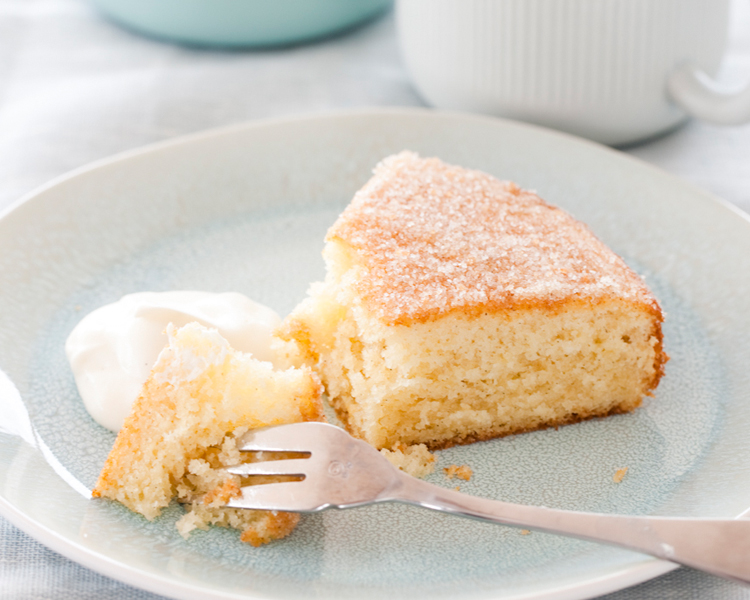 Heilala Vanilla Bean Teacake with Vanilla Sugar Topping

INGREDIENTS
65g butter
½ cup caster sugar
seeds scraped from 1 Heilala Vanilla Bean or 1 tsp Heilala Vanilla Paste
1 egg, lightly beaten
1 cup self-raising flour
½ cup milk
Topping:
1 Tbsp each: butter, melted and Heilala Vanilla Sugar
INSTRUCTIONS
Preheat the oven to 180°C. Line the base of a 20cm round cake tin with baking paper.
Place the butter, caster sugar and vanilla bean seeds or vanilla paste into a bowl and, using an electric beater, beat until the mixture is light and fluffy. Add the egg and beat well.
Fold in half of the flour, then half of the milk. Fold in the remaining flour and milk. Spoon the mixture into the prepared tin. Bake the cake in the preheated oven for 25-30 minutes, or until a skewer inserted into the centre comes out clean. Leave the teacake to stand in the tin for 10 minutes, then turn it out onto a wire rack. Brush the top of the cake with the melted butter, then sprinkle it with the vanilla sugar. Serve warm with whipped cream flavoured with a dash of vanilla bean paste.