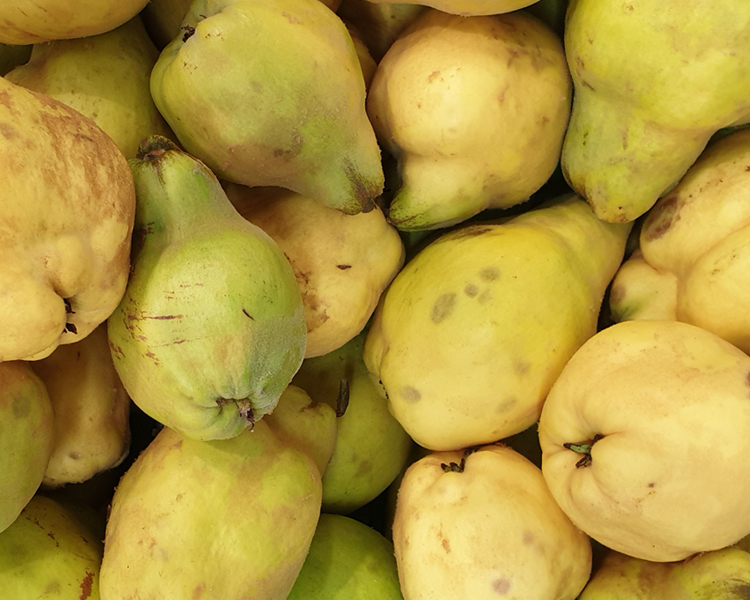 Market Report - Quince

Quince is a fruit native to Iran and Turkey and now commonly found in Europe. It is particularly popular in Middle Eastern, Spanish and French cuisine. Its appearance is similar to a pear and apple in both size and shape but a little lumpy. The colour of the skin is yellow and can sometimes have fuzz over it, while the flesh is white when raw and goes pink once cooked. Quince have a delicate vanilla, citrus, floral fragrance. They can be eaten raw but are very hard and astringent, however once cooked they soften and become delicate and sweet in flavour.
Quince are a good source of vitamins and minerals including Vitamin C, fibre, zinc, copper, iron, phosphorus and potassium.
Choose hard fruit that are green/yellow in colour and firm with no soft spots or bruises. You can store them on the bench top until their fragrance becomes quite strong or in the fridge for up to two weeks. Quince can be eaten both peeled and unpeeled. If unpeeled, rub off the fuzz and wash before cooking.
Quince can be used in a number of ways including roasting, stewed, baked and poached. They are very high in pectin which makes them great for making jelly, marmalade and jam. They are a delicious addition to sweet pies and crumbles and go well with meats such as lamb and pork. Quince are also delicious on their own as a simple dessert or with porridge or muesli.
RecipE - Poached Quince
7 cups (1.75l) water
1 cup (200g) sugar
1/2 cup (150g) honey
1 lemon, cut in half
1 vanilla bean, split lengthwise
6 large or 8 medium quince
Mix the water, sugar, honey, lemon and vanilla bean in a large non-reactive pot and turn it on to medium-high heat. You can add any additional spices or seasonings if you wish.
While the liquid is heating, quarter, peel, and remove the cores of the quince.
Put the quince into the pot and cover with a lid
Simmer the quince (do not boil) for at least an hour, until the quince are cooked through.
Cooking time will vary, depending on the quince. They're done when they are cooked through, which you can verify by piercing one with the tip of a sharp paring knife. It's not unusual for them to take up to 2 hours, or more.
Serve warm, or at room temperature. To store, pour the quince and their liquid into a storage container and refrigerate for up to one week. If you wish to eat only the fruit, you can save the liquid and drizzle it over ice cream or yoghurt or to flavour drinks.