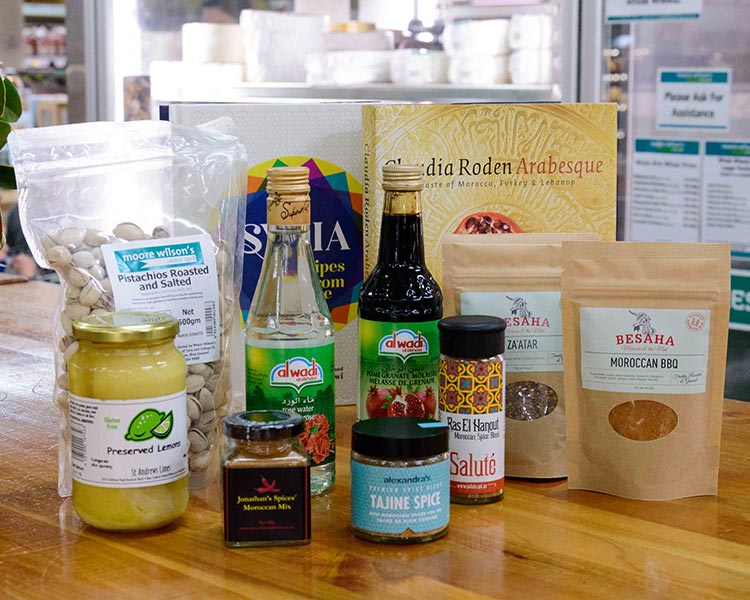 Middle Eastern Pantry Essentials

Following are some of the staples of Middle Eastern cuisine that you'll find at Moore Wilson's Fresh:
Bulgur Wheat A roughly ground wheat grain commonly used in tabbouleh (a grain salad with pomegranate seeds and herbs) and kibbeh (little stuffed croquettes).
Chickpeas The main ingredient in houmous, chickpeas are also really common in Middle Eastern salads and stews.
Za'atar This earthy dried herb mix is often served with bread and olive oil before meals, or as a seasoning for meat and fish. Fresh and punchy.
Sumac Tangy, fresh and packed with citrus flavour, sumac is often used in salad dressings or dips for a bit of added zing!
Ras-El-Hanout A precious, potent Moroccan blend of up to 30 spices; each merchant has his own unique blend.
Harissa A Tunisian hot chili pepper paste that is as complex as it is spicy, with hints of garlic and cumin. Spread it on sandwiches, mixes it into yogurt, and drizzle harissa oil over fried olives.
Cumin Some say this spice "makes everything Middle Eastern". Pungent, earthy, and unmistakable.
Turmeric  Fresh turmeric has a spicy bite and deeply orange flesh.
Pistachios One of the jewels of Middle Eastern cuisine, bright green pistachios are delicious toasted and scattered over salads, or baked in classic desserts such as baklava. 
Pomegranate Molasses Rich and sticky pomegranate molasses works brilliantly in sweet or savoury dishes. It has a lovely bitterness to it, and pairs well with stronger flavours such as mackerel and fennel.
Labneh You can strain plain yoghurt to make your own labneh – a soft cheese. It's delicious spread on toast, or served with an omelette.
Dates Nature's candy, dates are delicious with a cup of sweet tea. They're also brilliant for sweetening spiced milkshakes, or as petit fours.
Preserved Lemon Luxuriously soft lemons that, even whole, melt in your mouth. They are bright and yellow and satisfyingly salty. Used in many savoury dishes.
Kataif  Thinly shredded filo dough, and while it doesn't taste like much on its own, it's a great source of crunchiness and texture.
Tahini Used in dressings, sauces, dips, even baked into flatbreads and cakes, nutty, rich sesame-seed paste is essential to Middle Eastern cuisine. Look for tahini that is smooth and light in colour. The natural oil will rise to the top; stir to incorporate before using.
Rose and Orange Flower Water These fragrant waters are distilled from the Damascus rose and the Seville orange tree, respectively. An essential ingredient in many Middle Eastern desserts and Turkish Delight.